Ukraine condemns terrorist attack on Charsadda University, says Ambassador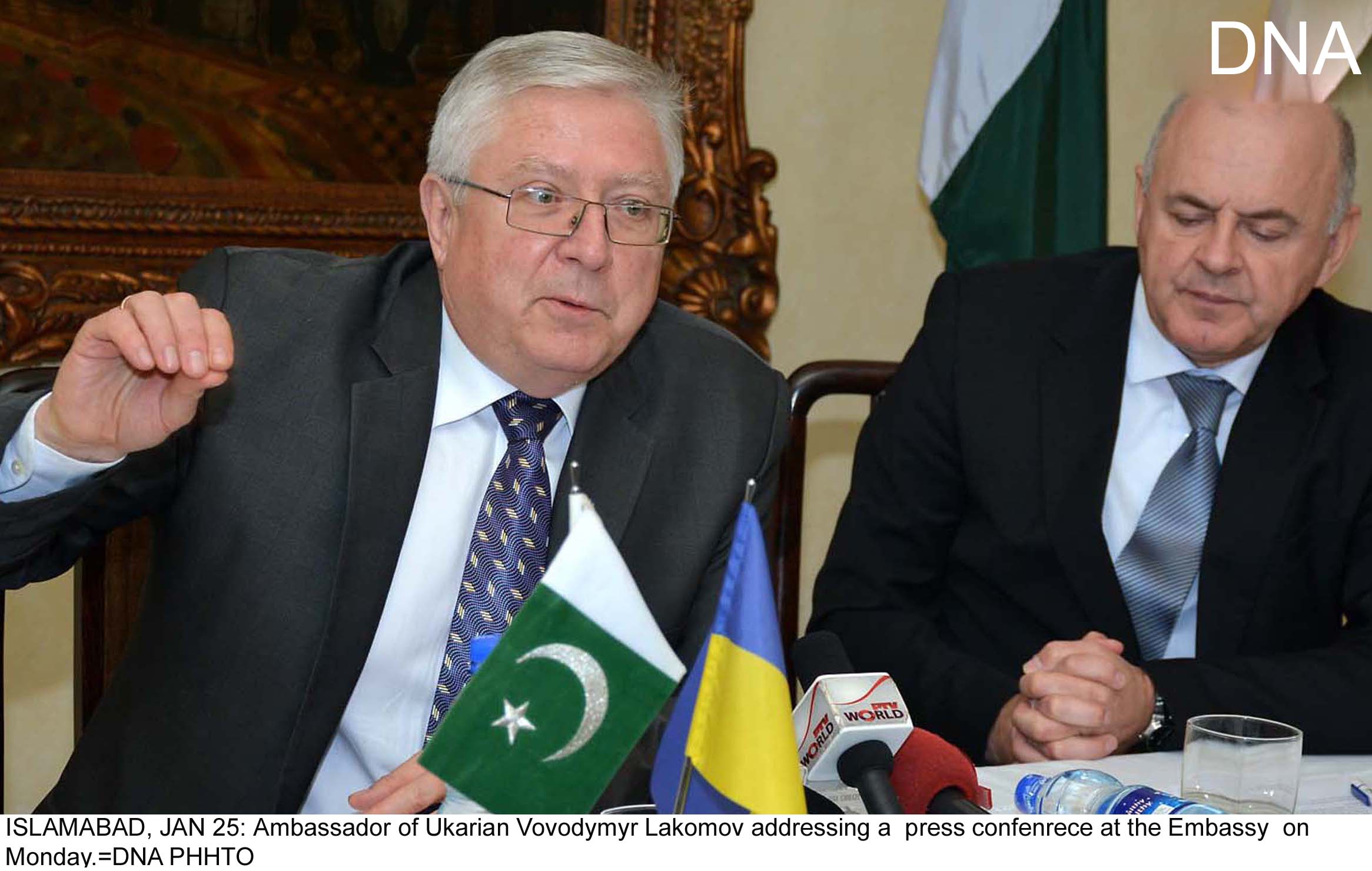 By Adnan Yousaf
ISLAMABAD, 26 JAN, (DNA) – Ukraine has condemned the terror attack on a Pakistani educational institution,Bacha Khan University Charsadda in possible strong words and extends its condolences to the bereaved families of the victims. Ambassador of Ukraine in Pakistan Vovodymyr Lokomov said this during a press conference the other day.
Speaking on the behalf of President of Ukraine Petro Poroshenko, the ambassador said that Pakistan was a country facing civil war and internal instability since long and we can better understand its situation as we have been passing through the like situation.
Vovodymyr said that Ukraine is optimistic that it will be successful in stopping Russian aggression and its involvement in our territory. He said we must restore the Ukrainian sovereignty over the occupied territories in Donetsk and Luhansk regions.
Quoting President Petro Poroshenko's words, the ambassador of Ukraine said "struggle for the return of Crimea is our priority in 2016. We will offer to establish the international mechanism on de-occupation of the peninsula. The optimal format is "Geneva Plus": with participation of our partners from the EU, USA and, probably, signatory countries of the Budapest Memorandum."
"Such difficult tasks as the return of Donbas and Crimea should be solved by political, diplomatic and international legal means. Once again, I emphasize our firm commitment to the full implementation of all provisions of the Minsk agreements by all parties without exception. We will not allow the revision of the Minsk agreements", he added.
When asked by media persons about Ukriane's bilateral relations with Pakistan, the ambassador said that our relations with Pakistan have a history. We share common ethnic, cultural as well as societal values and norms, like you might have seen that many surnames of Ukrainians and Pakistanis are quite same. It will not be wrong if I say that people of Pakistan and Ukraine are in relation with each other since primitive ages, though there were no modern nation-states born yet.
Vovodymyr further said about economic ties with Pakistan that trade level between Ukraine and Pakistan dropped in 2015. In 2014, bilateral trade between Ukraine and Pakistan exceeded 500 million US Dollar. He said that the reason behind the drop of trade level is the internal instability in Ukraine but I am optimistic that Ukraine will overcome this crisis soon and both countries will have good trade ties again.
Responding to the queries of media representatives about bilateral relations with Pakistan, the ambassador told that Ukraine is maintaining good relations with Pakistan; more than 1000 Pakistani students are studying in Ukraine, hundreds of tens Pakistani capitalists are having their businesses in Ukraine, these are the proves of our brotherly relations.
The ambassador concluded by saying that even when the Ukraine is facing troubles itself; it had tried and will be trying always to have better relation with Pakistan in every domain of state ties.=DNA
============