UK Minister for Asia and the Pacific visits Pakistan to reinforce UK support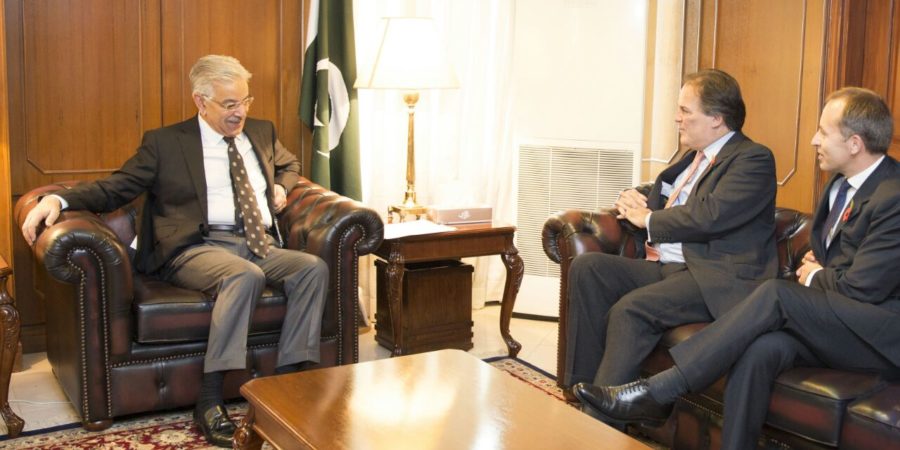 ISLAMABAD, NOV 08 (DNA) – Minister for Asia and the Pacific, Mark Field, today visited Islamabad for the first time, where his meeting with Pakistani Foreign Minister Khawaja Asif focused on shared international interests, Pakistan's regional relations and UK-Pakistan cooperation.
Following the meeting the Minister had tours of both the National Assembly and the Senate. The Minister also had meetings with the Speaker of the National Assembly, Ayaz Sadiq, and the Chair of the Senate, Raza Rabbani, where he discussed the UK-supported work to encourage parliamentary capacity building and cooperation.
The Minister visited the Commonwealth War Graveyard in Rawalpindi ahead of the annual commemorations to remember all those who gave their lives in the UK and the wider commonwealth.
He also spoke at a Chevening event, welcoming back scholars who have spent the last year in the UK at some of the world's best universities on fully-funded Chevening Scholarships.
Mark Field, Minister for Asia and the Pacific, said:
"I was delighted to spend today in Islamabad, during my first visit to Pakistan. I had a productive meeting with Khawaja Asif, where we talked about the important Commonwealth Summit next year and about Pakistan's wider role in South Asia.
"I also was honoured to see Pakistan's National Assembly and Senate, and I heard about the work the UK is doing with Pakistan's parliaments to build capacity, create links between UK and Pakistani parliamentarians and support the strengthening of Pakistan's parliamentary systems."