U.S. Embassy celebrates WECREATE handover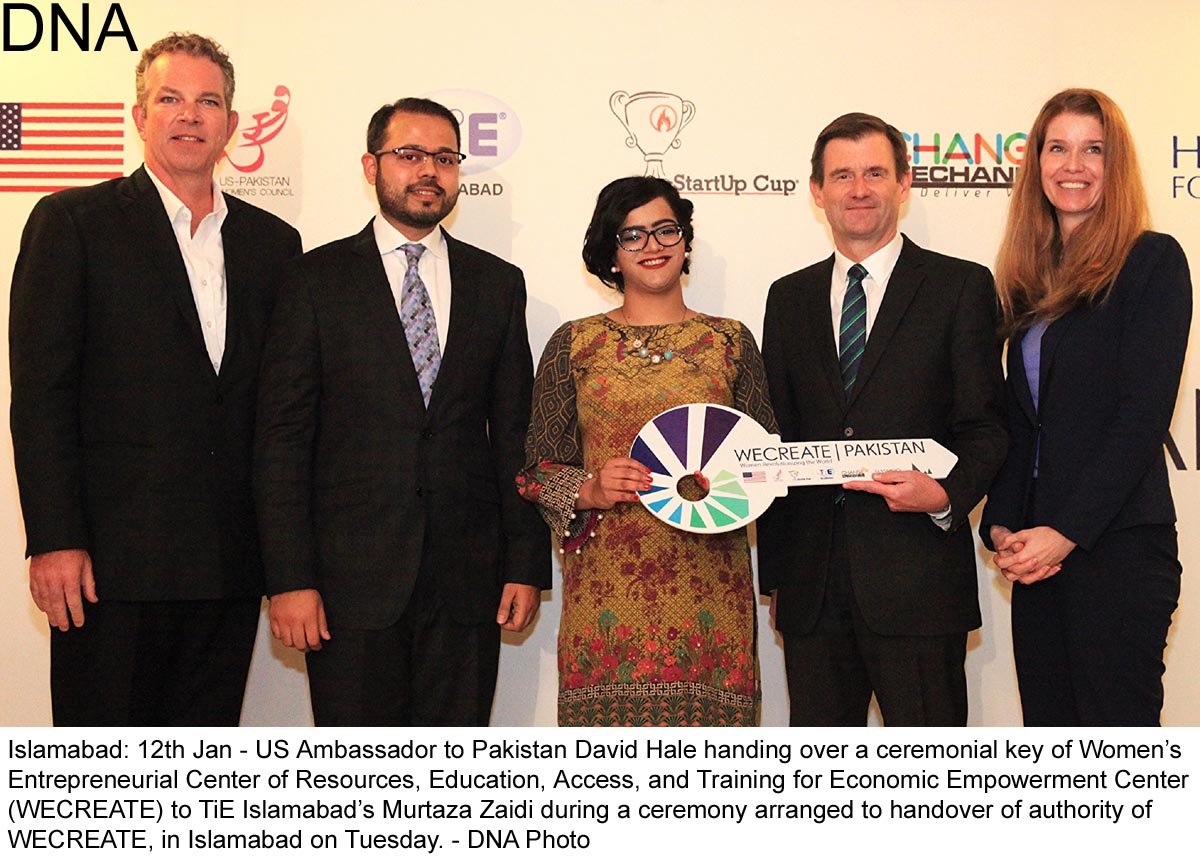 ISLAMABAD: U.S. Ambassador to Pakistan David Hale joined more than 50 entrepreneurs, members of the business community, and government officials from across Pakistan to celebrate the handover of authority of the Women's Entrepreneurial Center of
Resources, Education, Access, and Training for Economic Empowerment Center (WECREATE).  Islamabad is home to the world's first WECREATE Center.  The Center opened in February 2015 and is a business incubator specifically designed for female entrepreneurs.  Initially funded by a grant by the U.S. Department of State, the Center has reached a critical milestone in its operations by becoming self-sustaining through fee-for-service models and private sector support.
The WECREATE Center will now be managed by the Islamabad chapter of The Indus Entrepreneurs (TiE), a Silicon Valley-based entrepreneurial organization. "There is no question why Pakistan was chosen to host the inaugural
WECREATE Center:  The talent, creativity, and human capital that exist here are an inspiration worldwide," Ambassador Hale said during his keynote address.  "The WECREATE Center will continue to facilitate economic growth.  What WECREATE's entrepreneurs have accomplished in just one year by attaining self-sufficiency is remarkable.  This milestone is only the beginning and I cannot wait to see what the women of WECREATE have in store for all of us," Hale added.
Representatives from WECREATE's partner organizations, including StartUp Cup, the Hashoo Foundation, and the U.S.-Pakistan Women's Council were also in attendance.  Ambassador Hale concluded the event by handing over a ceremonial key to TiE Islamabad's Murtaza Zaidi.
WECREATE's co-working space provides a flexible option for female business owners or workforce looking for a community of liked minded entrepreneurs.  Available on membership or usage basis, the space provides entrepreneurs with a creative and well-designed space where they can collaborate freely or work individually. Since opening in Islamabad, additional WECREATE Centers have opened in Cambodia, Kenya, and Zambia.