Turkey: President Recep Tayyip Erdogan denounces coup attempt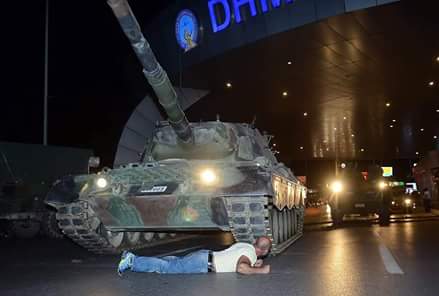 Turkish President Recep Tayyip Erdogan has denounced a coup attempt as an "act of treason" and insisted his government remains in charge.A faction of the armed forces is accused of trying to seize power. Officials say the coup is over though this has not been confirmed.The cities of Ankara and Istanbul were hit by a night of bomb blasts, air strikes and gunfire which left at least 60 people dead and hundreds wounded.Some 1,563 soldiers have been arrested.Dramatic images showed dozens of soldiers walking away from their tanks with their hands up on one of Istanbul's Bosphorus bridges, after they had closed it off to traffic all night.
The Red Crescent in Turkey says 800 people are in hospital in Ankara and 200 in Istanbul after the night of violence.
How did it begin
Events began on Friday evening when tanks took up positions on key bridges in Istanbul, which were blocked, troops were seen on the streets and low-flying military jets were filmed over Ankara, the capital.
A faction of the army then declared that a "peace council" was running the country, and there would be a curfew and martial law.