Trump Presidency signals uncertainty for Pak-US ties: experts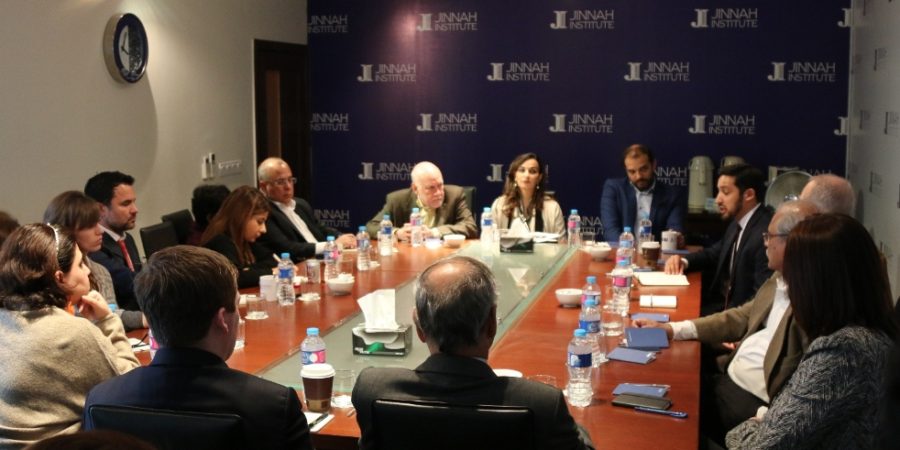 ISLAMABAD, DEC 14 (DNA) – With the Pak-US bilateral relationship entering a period of heightened uncertainty in the wake of the election victory of Donald Trump in the United States, it was doubly important for both sides to continue to work to stabilize ties.
This was one of several assertions made by policy experts gathered at a roundtable convened by the Jinnah Institute in collaboration with the Stimson Center on Wednesday to discuss US foreign policy towards South Asia a new administration in Washington.
 Chairing the roundtable, Jinnah Institute President and former Ambassador to the United States Senator Sherry Rehman took the view that while joint purpose and common interests usually defined relations between governments, there was growing disconnect in Islamabad, incited in part by a mismatch of expectations.
A primary concern for Pakistan was the fact that it continued to be treated as a window for America's safe exit from Afghanistan. Washington needed to understand that overburdening Islamabad with expectations of stabilizing Afghanistan only spoke to the muddle-through of America's own strategy in the region.
 There was also a growing view in Islamabad that its closeness with China was viewed with suspicion and hostility by the United States.
It was further held that while Pakistan should not to be made to feel it has to make strategic choices between camps, the lack of strategic empathy from the US for the policy changes Pakistan had made in recent years, or appreciation that civilian consolidation took place incrementally and not overnight, continued to trouble policy quarters in Islamabad.
Experts from the US-based Stimson Centre, meanwhile, said that while the possibility of things getting worse could not be ruled out, a Trump Presidency also had the capacity to surprise. Going forward it was important for both sides to work together to overcome friction points.
In this regard, better economics and preferential trade options were cited as two possible roadmaps for strengthening the foundations of the bilateral relationship.
Given that Pakistan was likely to transform into an important energy corridor in the coming years, the United States stood to benefit from broadening the lens of its relationship with Islamabad beyond the usual security metrics.
On the subject of a Trump administration's overall foreign policy direction, the view was that the US would find it difficult to project power with the erosion of domestic cohesion at home. The rise of Russia and China were likely to add to US strategic anxieties, and it was difficult to rule out the possibility of relations with Russia spiraling under a Trump administration.
The roundtable was co-chaired by Jinnah Institute Vice President Amb. Aziz Ahmed Khan. The Stimson Centre was represented by Mr. Michael Kreppon, Senior Associate at the Stimson Centre, and Dr. Sameer Lalwani, Deputy Director of Stimson's South Asia Programme.=DNA
===============