Tree Plantation to Mark 30 Years of Diplomatic Relations with Azerbaijan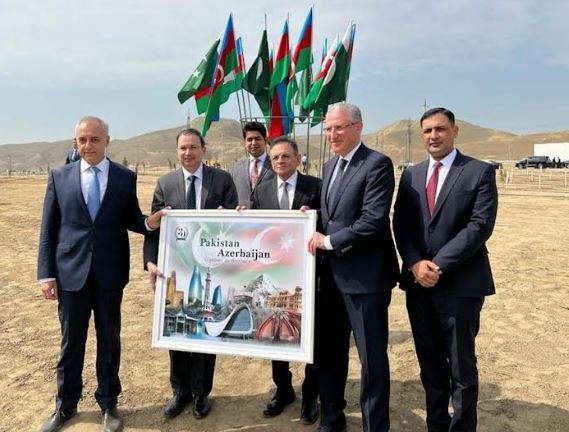 BAKU, APR 27 /DNA/ – Today, the staff of the Embassy of Pakistan joined Ministers of Defence Industry and Ecology of the Republic of Azerbaijan in a ceremony to plant 300 saplings in the vicinity of Baku. It was part of a series of events to mark 30th anniversary of establishment of diplomatic relations between Pakistan and Azerbaijan.

Madat Guliyev, Minister of Defence Industry and Mukhtar Babayev, Minister of Ecology; Ambassador Bilal Hayee, and the Pakistan Embassy officials planted trees to highlight the commitment of the two brotherly countries to join hands in meeting the challenges of climate change.

Talking to the media persons present on the occasion, Ambassador Bilal Hayee noted that today's ceremony was a demonstration of the shared commitment of Pakistan and Azerbaijan to take all measures including the planting of trees to minimize the negative impacts of climate change affecting both countries. The Ambassador informed that the Government of Pakistan was already engaged in the massive exercise to plant billion trees across the length and breadth of the country with a view to increasing the forest cover, reduce the soil erosion and other negative impacts of climate change. Pakistan was happy to join hands with the brotherly country in similar efforts for afforestation and building a greener Azerbaijan.

The Ambassador thanked the honourable Ministers, the senior officials of Government of Azerbaijan as well as the large number of students and volunteers from Azerbaijan and Pakistan who were present on the occasion and took active part in the plantation of trees. A souvenir representing Pakistan Azerbaijan relations was also presented to the Honourable Ministers.