Tourists throng to Galiyat to beat sizzling heat during Eid holidays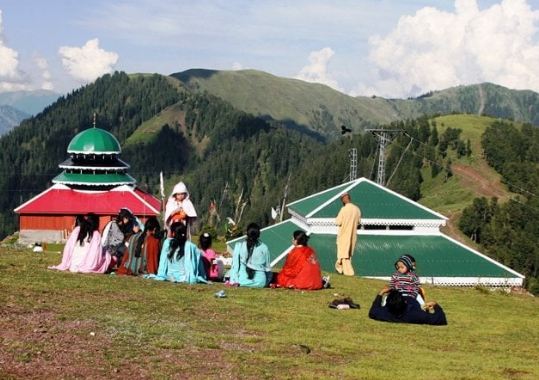 NATHIAGALI, Jul 01 (APP): An influx of tourists and adventure sports enthusiasts from plain districts of Khyber Pakhtunkhwa (KP) and Punjab provinces have thronged to the scenic Galiyat valleys to beat the sizzling heat during the Eid holidays.
Enjoying the mesmerizing beauty of Nathiagali, Ayubia, Khanaspour and Thandyani of Abbottabad district, the tourists move into a state of ecstasy after witnessing the weather heralding melodies, seasonal flowers, fresh cool breeze and waterfalls mostly emanating from the Himalaya mountains.
Amid hide and seek between the sun and clouds with moderate to erratic rainfalls over snow-clad mountains peaks of Mukeshpuri and Miranjani on western Himalaya hills in Abbottabad, Nathiagali and Ayubia draw tourists from the width and breadth of Pakistan.
Ayubia-Nathiagali, Donga Gali-Ayubia and Mukshpuri Top are the most frequented sites where local guides and horse riders are seen moving around to make a quick buck.
A substantial number of tourists along with families have been seen on fast-moving swings and Ayubi chairlifts amid thrill and excitement.
Unscrupulous business elements in the hotels and restaurants industries are fully exploiting the situation by fleecing tourists due to the shortage of accommodation at Nathiagali, Ayubia and adjoining scenic resorts.
A private hotel is charging Rs15,000 to Rs20,000 per room per night from each tourist beyond the purchasing power of low-income domestic tourists.
"Nathiagali is the prime choice of domestic tourists in hot weather due its pleasant weather, easy mobility, diverse natural viz-a- viz mountainous beauty and waterfalls, however hotel charges needed to be checked by the government," said Imran Khan, an architect of Nowshera district while talking to APP.
He said such high charges by private hotels may negatively impacted in total intake of tourists to Nathiagali, Ayubia, Dongali, Harnoi, Bagnotar and Thandyani.
To provide affordable accommodations to tourists, the KP government has established camping pods at Sharan Saiful Malook lake, Gabeen Jaba Swat, Mahaband Buner-Swabi, Allai Batagram, Bamburait Chitral, Tandyani Abbottabad, Bisigram Swat, Yakhtangi Shangla, Saheed e Sir, Malka Swat and Sheikh Badin DI Khan.
Shad Khan, spokesman of KP Culture and Tourism Authority told APP that Bishigram, Shran, Yakhtangi, Shaheed e Sir and Malk camping pods have already been opened for tourists while the remaining pods would be shortly opened after completion of renovation works.
He said each pod has two to four beds for families, a wash room and a small kitchen, adding Rs3500 to Rs5000 per day/night stay was being charged against Rs15,000 to Rs20,000 per room by a private hotels at Khagan, Naran and Galiyat valleys.
He said that ten more camping pods at Jargo and Sulatanr in Swat, Lashkargha Broghal Valley and Surlaspur Shandor valley Upper Chitral, Kumrat velley in Upper Dir, Laram Top and Shahi Bin Shahi in Lower Dir, Lilowani Alpuri in Shangla Samanah Top in Orakzai/Hangu and Kalam Swat were planned.
He said, "River Kunhar trout fish, river rafting, snowfall and adventure sports features make it unique."
He said, "Ecotourism spots are being developed at premises of small dams including Tanda dam Kohat, Chatri dam in Haripur, Naryab Hangu, Kundal Swabi and Chalgoza Abbottabad to promote day-long families tourism."
He said the PC-1 of Chatri, Naryab and Tanda dams tourism sites were completed and practical work would soon be started.
"The tourism police force has been launched by the KP Government to facilitate tourists,"
Tourism police in Hazara and Malakand divisions were already made operational, he added.
The tourism police comprise well-trained officers equipped to handle any situation.
"These officers are fluent in several languages, including English, to make communication with foreign tourists easier."
"The government has also launched a mobile application called the 'Tourist Safety App', which enables tourists to quickly and easily contact the tourist police in case of an emergency."
"The government has invested heavily in improving the infrastructure in the province, including the road network, transportation, and accommodation facilities in tourism famous destinations," he added.
"A road from Maidan to Bishigram Lake is being constructed and jeep track at Kandal Lake has already been built,"
"Waterfalls of Lamchar, Sajkot, Noori, Chajjian Haripur, Jarogo Swat, Lanchar Dir and Umbrella Abbottabad were being developed on modern lines."
"To reduce tourists load at Galiyat, Kaghan, Naran, Kalam, Malam Jabba and Dir, jeepable tracks were being constructed in 15 areas with an estimated cost of Rs500 million, he informed.
"KP government has announced the construction of Integrated Tourism Zones (ITZs) at Ghanool Mansehra, Mankiyal Swat, Madaklasht Chitral and Thandiyani Abbottabad with the assistance of the World Bank."
ITZs of Ghanool Mansehra would be established on 59.6 acres, Mankiyal Swat on 29.5 acres, Madaklasht on 540 Kanal and Thandyani on 640 Kanal of land respectively.
"As a pilot project, the Government has decided to first develop Ghanool with a proposed cost of Rs5.5 billion and Mankiyal with an estimated cost of Rs2.9 billion."
The pre-qualification bids of Mankiyal and Ghanool ITZs would soon be awarded for which rules and regulations were being prepared and to be completed in two years on the patterns of ITZs of Malaysia and Indonesia.
"These ITZs are expected to create 200,000 direct and indirect job opportunities and USD 2.8 billion in investment."
Similarly, tourism spots, jeep tracks and roads to link the waterfalls of Abbottabad, Haripure and Mansehra were being developed.
"The feasibility of the Cable Car project to be started from Dir Upper to Madaklast Chitral has been completed and would be financially supported by the World Bank through KP Integrated tourism project (KITE), the spokesman said.
About 19 PTDC hotels/motels including at Gharam Chesma, Pir Maflasht, Boni, Kalash in Chitral, Oshu Kalam, Mankiyal, Saidu Sharif, Miandum in Swat, Balakot Mansehra, Ayubia Abbottabad were opened for tourists.
The spokesman said, "The number of tourists visiting Khyber Pakhtunkhwa has increased in recent years due to improved road connectivity and law and order which has not only boosted the economy of the province but has also helped to change the tourism perception of the entire region."