Tourists advised to take precaution while visiting Murree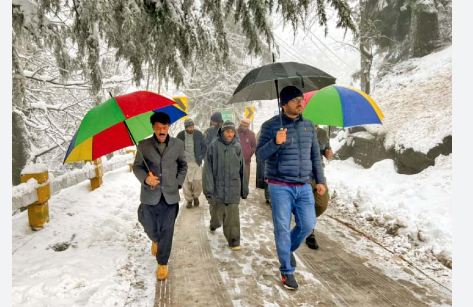 RAWALPINDI, JAN 06 (DNA) — Rawalpindi Division Commissioner Saqib Manan has advised tourists visiting Murree and adjoining areas to enjoy the winter snowfall to take precaution when visiting measures.
Manan directed the authorities concerned to utilize all available resources to facilitate tourists in Murree. With a major incident taking place last year, Manan directed to take all possible precautions against vehicles getting trapped in the snow.
In this regard, he directed all snow removal machinery to be kept operational, besides arranging salt sprinkler machines and ensuring presence of the required staff. Additionally, a control room has been established at the Jinnah Hall in Murree on the special directives of the commissioner. "In case of any emergency, tourists can contact the control room on 051-9269015, 051-9269016, 051-9269018," he added.
The representatives of all the departments concerned would remain present in the control room, which would work around the clock under the supervision of the Murree assistant commissioner.
Facilitation for tourists
Murree Additional Deputy Commissioner Ahmed Hassan Ranjha said that the district administration has set up special facilitation centers at 13 sensitive points to assist tourists and respond to any emergency.
Tehsil Headquarters Hospital, CMH Murree and basic health centers have finalized arrangements for the snowfall season besides setting up two health camps at Lower Toppa and Bansra Gali, for the convenience of the tourists, the ADC added.
Due to the huge influx of tourists towards Murree, the district administration and the Rawalpindi City Traffic Police have issued an advisory, appealing to the citizens to observe lane discipline.
Tourists were requested to use petrol-based vehicles and strictly prohibited to use CNG-based vehicles, which may cause problems in cars due to the extreme cold. They were also advised to keep their fuel tanks full.
Families with infants and asthma patients are also advised to avoid traveling to Murree. The visitors were advised to wear warm clothes and avoid unnecessary travel after 8pm. The advisory further says that when driving, to turn on emergency lights and other lights. To ensure good road grip on the snow, commuters should try and put a metal chain on their tyres.
The CTP spokesman said that special traffic wardens had also been deployed at the main sites of Murree to ensure smooth traffic flow. He requested the tourists to follow the advisory to avoid any kind of inconvenience. The Tourism Police and the special squads were also directed to make coordinated efforts to provide the best facilities to the tourists, he added. = DNA