Toshakhana case: Court allows Imran Khan to mark attendance from car amid chaos at Islamabad Judicial Complex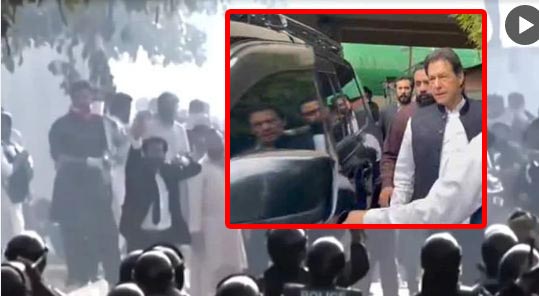 ISLAMABAD: Chaos gripped the Islamabad Judicial Complex as Pakistan Tehreek-e-Insaf (PTI) Chairman Imran Khan arrived at the site to appear before a court.
PTI workers clashed with police and caused damage to public property, forcing the law enforcers to briefly detain Khan's Chief of Staff Shibli Faraz.
The PTI chief arrived at the Islamabad Judicial Complex several moments earlier, where he was scheduled to appear before a court in the Toshakhana case, but he left the premises due to the tense situation.
The former prime minister's convoy also faced several hurdles on its way from Lahore to Islamabad — from vehicles overturning to police and party workers clashing on several spots.