The ML-1 Railway: A fulcrum for global trade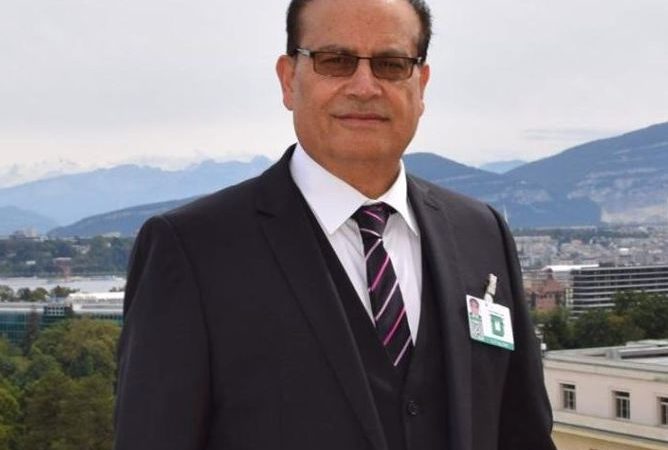 Qamar Bashir
The visit of the caretaker Prime Minister to China for the Belt and Road Initiative (BRI) forum meeting has been highly successful. One of the major achievements is the signing of the Mainline-1 (ML-1) railway project, a crucial component of the China-Pakistan Economic Corridor (CPEC). The ML-1 project aims to connect Peshawar to Karachi through a 2,600-kilometer track with an estimated cost of $7 billion. Planned to be complete in 16 years, it will increase the line capacity from 34 to 134 trains each way per day, moving up to 165 kilometers per hour — twice as fast as they currently run, benefitting various industries in Pakistan, drive the next phase of CPEC projects and enhance economic cooperation between China and Pakistan.
ML-1 will make Gwadar a more appealing and efficient trade gateway for Pakistan and its neighboring countries, poised to stimulate economic growth and generate employment opportunities, facilitate the transportation of energy resources from the Middle East and other nations to Pakistan, addressing critical energy shortages and facilitating the movement of Thar coal within the country.
For China, this will open up a more direct and efficient trade route to the Arabian Sea, reducing both time and shipping costs for goods to and from western China, create opportunities for Chinese companies and enhance and provide China with an alternative and shorter route for importing energy resources from the Middle East.
Afghanistan, after prolonged advocacy, has finally agreed to become a partner in the CPEC. This participation holds the potential to significantly bolster Afghanistan's economy by establishing it as a regional transit hub and promoting economic diversification. The railway project can serve as a vital transit route for Afghan goods to access international markets via Gwadar, potentially revitalizing Afghanistan's economy.
For Central Asia, this railway offers new trade routes, granting access to the Arabian Sea and diversifying trade options. The increased trade has the potential to boost economic development and diversification in the region. While India is not directly connected to the project, it could potentially access Central Asian markets through Gwadar if tensions ease and trade relations improve between the nations. The railway could provide Iran with better access to markets in China and Central Asia, enhancing trade opportunities and trade links can contribute to economic growth and regional stability.
There is a strong possibility of extending this railway link from China to Europe throughTurkey, which could yield numerous benefits for the countries along the route. This extension would enhance both regional and global trade by providing a more efficient and cost-effective trade route, fostering increased trade between Asia, Europe, and Central Asia. The result would be reduced transportation times and costs, making this route more competitive compared to other trade corridors, creating job opportunities, boosting local industries, and encouraging infrastructure investment. Additionally, Turkish and European markets would benefit from improved access to Central Asian and Chinese markets.
The railway's potential to serve as a transit for cultural exchange and tourism between regions with diverse cultures and histories stimulating local economies and encouraging people-to-people connections.
Notably, rail transport is generally more environmentally friendly than other transportation modes, such as road or air transport, contributing to reduced carbon emissions. Moreover, the construction and maintenance of the railway would necessitate investments in transportation infrastructure, benefiting local communities. Successful implementation of such a project could strengthen diplomatic ties among countries involved and promote regional cooperation.
The construction of a railway line will bring about profound impacts on the Pakistani cities along its route in terms of economic, social, and infrastructural transformations that can reshape urban and rural landscapes.
Cities situated along the route are likely to experience notable economic growth, driven by increased trade and commerce, attracting businesses, investors, and logistics companies, creating new economic opportunities, driving job creation, raising income levels, and alleviating poverty in these areas.
Moreover, the railway project would facilitate the establishment of industrial zones and logistics hubs along the route, drawing manufacturing and distribution companies. This would lead to a surge in industrial activities in nearby cities, bringing an influx of workers and encouraging urbanization in the surrounding areas.
Ml-1 is likely to bring a significant investment in transportation infrastructure, including the development and upgrade of rail stations, logistics centers, roads, and utilities leading to an improvement in the quality of life for residents, providing enhanced transportation options and increased access to essential services.
The railway project will also prove highly beneficial for farmers and agricultural communities along the route. It will make it significantly easier for them to transport their produce to markets, both domestically and internationally, leading to increased agricultural production and higher incomes. Furthermore, improved access to urban centers will translate into greater access to education and healthcare services for rural populations. In addition, the railway project is poised to have a positive impact on the promotion of tourism in the country.
The perspectives of countries and regions on the BRI can vary widely, depending on their specific interests and concerns. The perspective of the Middle East in relation to this railway link is notably positive. Many Middle Eastern countries view BRI as a source of significant economic opportunities. Given their strategic location as potential hubs for trade and investment, they see the initiative as a means to boost economic growth, infrastructure development, and job creation.
The region, known for its substantial energy resources, often sees BRI projects focusing on energy infrastructure like pipelines and ports, which can help expand energy markets and diversify export routes. Additionally, the BRI is viewed as an opportunity to strengthen political and strategic ties with China, leveraging Chinese investments and cooperation for regional stability and development.
For many European countries, the BRI represents a means to enhance economic integration and trade relations with China. The development of transport and logistics infrastructure can greatly improve access to Chinese markets, making it an attractive prospect. European nations are keen on seeking investment opportunities in BRI projects, particularly in sectors such as transportation, energy, and telecommunications. Collaboration with China in research and innovation is also a priority for Europe.
In the context of African countries, the BRI offers valuable investments in infrastructure. Many of these nations often lack the necessary resources for comprehensive development, and BRI projects, including the construction of roads, railways, ports, and energy facilities, are pivotal in driving progress. The improved transportation infrastructure and enhanced connectivity through BRI projects can significantly enhance Africa's trade capabilities and its access to global markets.
The United States is notably the country expressing concerns regarding the potential geopolitical implications of the Belt and Road Initiative (BRI) and its capacity to expand China's influence in various regions. The U.S. views the initiative as a challenge to its leadership and interests and has placed emphasis on the importance of transparency, fair competition, and adherence to international standards in BRI projects. It advocates for high environmental and social standards. In response to the BRI, the U.S. has sought to promote alternative investment initiatives, such as the "Free and Open Indo-Pacific" strategy, in an effort to counterbalance the influence exerted by the BRI.
The CPEC, a flagship project under the BRI, is delivering substantial results in Pakistan. With over $65 billion in Chinese investments, the initiative has seen the completion of more than 50 projects worth $25 billion, including the operationalization of the deep seaport of Gwadar. Moreover, significant strides have been made in the energy sector, with at least 8,000 megawatts of electricity injected into Pakistan's national grid and plans for an additional 10,000 megawatts of clean energy projects within the next five years. CPEC is also creating industrial zones to attract both local and Chinese investors, particularly in mineral-rich Balochistan. These endeavors have already generated 200,000 jobs, built over 1,400 kilometers of highways and roads, and facilitated the handling of 600,000 tons of cargo at the port of Gwadar in the last 18 months, demonstrating the transformative impact of this vital economic corridor.
The Chinese government's unwavering commitment to BRI, with CPEC as a shining example, is poised to make a resounding impact. The ML-1, bolstered by integrated world-class infrastructure in roads, highways, energy, and cyber projects, has the potential to extend its reach far beyond the boundaries of the BRI.
By seamlessly connecting with regional and international transport systems, this initiative can serve as a catalyst for bringing much-needed financial and economic prosperity to Pakistan, effectively pulling the nation out of its current financial and economic challenges, and propelling it towards a brighter and more prosperous future.
Qamar Bashir
Former Press Secretary to the President
Former Press Minister to the Embassy of Pakistan to France
Former MD, SRBC