Resumption of Tajik air operations from Pakistan discussed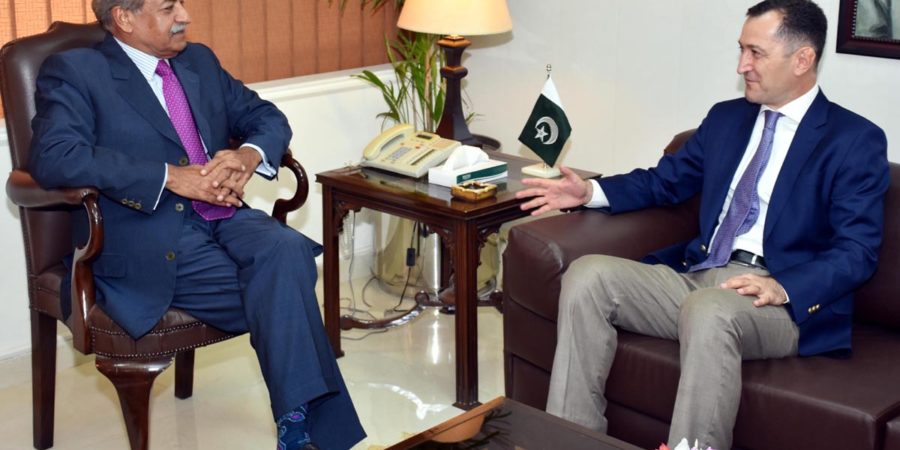 ISLAMABAD: In order to embrace a sustainable development model Pakistan and Tajikistan have mutually agreed on enhancing and extending their bilateral relations and to work collectively on different sectors particularly trade, tourism and aviation sector.
Different matters related to mutual cooperation in different arenas were discussed in a meeting between Advisor to Prime Minister on Aviation Sardar Mehtab Ahmad Khan and Ambassador of Tajikistan in Pakistan Mr. Sherali Jononov here in Islamabad on Tuesday. Besides, Secretary Aviation Division Irfan Elahi and other officials were also present on this occasion.
Ambassador of Tajikistan in Pakistan Mr. Jononov Sherali not only appreciated the endeavors of Ex-Prime Minster Muhammad Nawaz Sharif but also acknowledged his contribution towards enhancing and accelerating the bilateral relations with Tajikistan.  He further admired the significant and protagonist contribution made by Sardar Mahtab Ahmad Khan in order to restructuring Pakistan International Airlines and Aviation particularly to introduce reforms in PIA and Aviation.
Advisor to Prime Minister on Aviation Sardar Mehtab Ahmad Khan said that the incumbent government always focuses on strengthening bilateral relations and we will always strive for accomplishing the dreams and vision of Muhammad Nawaz Sharif to ensure the prosperity and sustainable peace not only in Pakistan but in the whole region. Further he added that Pakistan and Tajikistan are bosom friends and this friendship will last forever. We are eager to collaborate on different projects with Tajikistan to nourish this relation and to collaborate in energy, aviation, peacemaking and tourism sector.
Advisor to PM Sardar Mehtab Ahmad thanked to Ambassador of Tajikistan in Pakistan Mr. Sherali and expressed that being democratic countries, Pakistan and Tajikistan have very strong bond and with every passing day both countries are embracing strong and closest relations. In order to ripen mutual understanding Pakistan and Tajikistan should go hand in hand by supporting each other.