Swiss investors keen to tie up with Pakistan in herbal medicines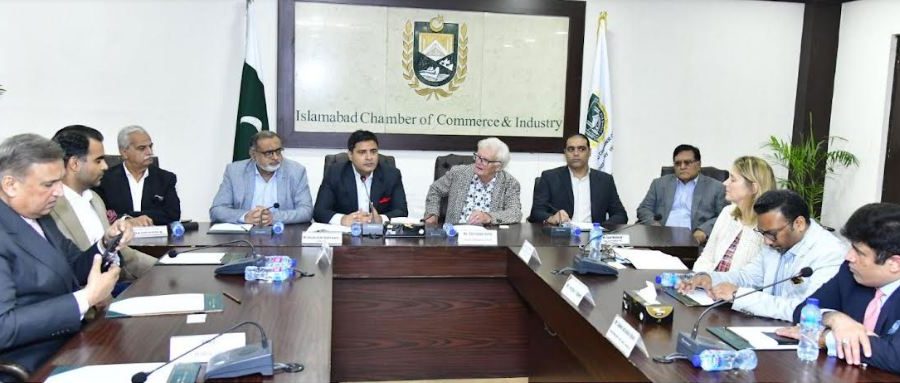 Islamabad, NOV 15: /DNA/ – A delegation of Switzerland's herbal medicines company Herbamed AG led by its Managing Director Christoph Züllig visited Islamabad Chamber of Commerce & Industry and showed keen interest to tap the Pakistani market for business collaboration in herbal medicines.
Addressing the delegation, Ahsan Zafar Bakhtawari, President, Islamabad Chamber of Commerce & Industry said that the herbal medicines is a booming industry around the world while its global market is set to reach US$ 107 billion by the year 2024, therefore, he stressed that Pakistan and Switzerland should develop strong collaboration to share expertise and technology for the manufacturing of herbal medicines to export them around the world. He said that Pakistan has established SIFC to facilitate the foreign investors in Pakistan and stressed that this is the right time for Swiss investors to explore Pakistan for JVs and investment. He assured that ICCI would cooperate in connecting the Swiss investors with right partners in Pakistan.
Speaking on the occasion, Managing Director Christoph Züllig, Herbamed AG of Switzerland said that his company is manufacturing herbal medicines for the treatment of various diseases including hypertension, diabetes, liver problems, stomach problems, fever & common cold, prostrate and many others with no side effects and they want to penetrate the Pakistani market to address the health issues of patients with quality products with no side effects. He also gave a detailed presentation on his company and products and hoped that ICCI would help them in exploring business partnerships in the Pakistani market.
Faad Waheed, Senior Vice President ICCI stressed for close cooperation between Islamabad and Swiss Chambers of Commerce to bring private sectors of Pakistan and Switzerland closer in order to explore new areas of mutual cooperation.
Engr. Azhar ul Islam Zafar, Vice President ICCI emphasized that both countries should encourage regular exchange of trade delegations to explore new business opportunities available in each country.
Khalid Iqbal Malik, Group Leader ICCI said that Pakistan has great potential for tourism and Switzerland should cooperate with its expertise and technology to improve tourism infrastructure in Pakistan.
Zafar Bakhtawari, former President and Secretary General UBG said that Pakistan and Switzerland should organize single country exhibitions in each other country to introduce their products and promote business collaborations.
Nasir Qureshi Senior Member ICCI also highlighted the potential of mutual cooperation in the pharmaceutical sector between the two countries.