Students Travel on the Bus Roof put their Lives in Danger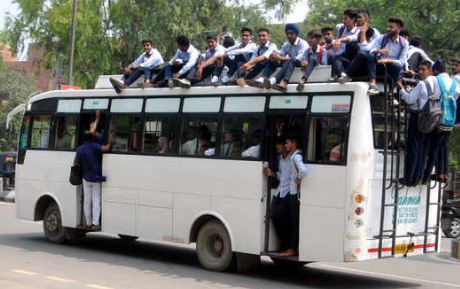 By Faisal Munir / DNA
Correspondent
ATTOCK, 15 Feb: Due to lack of interest of Attock traffic
police and negligence of parents, students of schools and colleges
started traveling on the roofs of vehicles. Accidents can happen to
students. Demand for notice from SSP Traffic Police Rawalpindi.
Students from Attock villages around Dandi, Chakki, Meera Sharif,
Makhd Sharif, Kharpa, Dhok Laham and Pindi Gheb come to study sitting
on the roofs of vehicles.Students have been forced to travel on the
roofs of vehicles due to lack of interest of district traffic police
personnel, negligence of parents and lack of resources.
This can lead to a major accident at any time in which there is a risk
of loss of life. Strict legal action should be taken against any
vehicle driver who is caught carrying students sitting on the roof of
the vehicle and the vehicle should be stopped at the police station.
Public of district have appealed to SSP Traffic Police Rawalpindi and
DSP Traffic Police Attock that Law against car drivers Action orders
should be issued to avoid any emergency.