Storming Khan's Zaman Park residence part of 'London Plan': PTI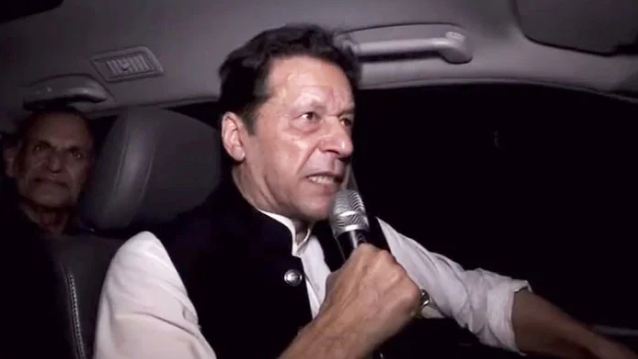 • Storming Khan's Zaman Park residence part of 'London Plan': PTI
• Ill-intent of cabal of crooks should be clear to all now: PTI Chairman
• Imported govt, facilitators should be ashamed for violating veil, four walls of Khan's residence: Qureshi
• Neither any law, nor morality left: Asad
• Mazari terms assault on Khan's residence pure state terrorism
ISLAMABAD: In what appears to be the worst state terrorism, Pakistan Tehreek-e-Insaf (PTI) leadership said that the Punjab police stormed PTI Chairman Zaman Park's residence in sheer violation of the court orders as part of the nefarious 'London Plan' to pay way to bring the fugitive Nawaz to power.
PTI Chairman Imran Khan, PTI Vice Chairman Shah Mehmood Qureshi, PTI Secretary General Asad Umar and Dr. Shireen Mazari blasted the imported government and Punjab police for attacking Zaman Park Residence and subjecting PTI workers to worst torture, besides violating the sanctity the "veil and the four walls".
Imran Khan said that Punjab police had led an assault on his house in Zaman Park where Bushra Begum was alone. "Under what law they are doing this," he asked.
PTI Chairman stated that this was part of London Plan where commitments were made to bring absconder Nawaz Sharif to power as quid pro quo for agreeing to one appointment. "It is now clear that, despite my having gotten bail in all my cases, the PDM government intends to arrest me," he added.
However, Imran Khan stated that despite knowing their malafide intentions, he was proceeding to Islamabad and the court because he believed in rule of law. But, he added that ill intent of this cabal of crooks should be clear to all.
"It is also obvious now that the entire siege of Lahore was not about ensuring I appear before the court in a case but was intended to take me away to prison so that I am unable to lead our election campaign," Khan maintained.
In his strong reaction, Shah Mehmood Qureshi said that as soon as PTI Chairman left for Islamabad, the Punjab government stormed Zaman Park. He said that the PTI workers were subjected to the worst torture and sanctity of the veil and the four walls were violated.
Qureshi questioned: "Does the law not apply to these animals?"
He said that the imported government and its facilitators should be ashamed for what they had done in Zaman Park.
Asad Umar, in his reaction, stated that Zaman Park operation was going on in sheer violation of court orders. He stated that there was only one housewife at home. He said that neither any law was left nor any morality.
Flaying the imported government, Dr. Shireen Mazari said that assault on Imran Khan's residence in Zaman Park where Bushra Bibi was alone inside the house was pure state terrorism by a corrupt caretaker Chief Minister and his Gullu Butt police.
She said that state terrorism has crossed all bounds. "Total law of the jungle. State will destroy Pakistan to implement London Plan to bring Pineapple Sharifs to power – a deal that is being implemented with the blood of our people," she added.
Dr. Mazari stated that some illegal covert activity perhaps to target Imran Khan? "Even the facade of democracy has vanished now. We are under fascist rule by a cabal of crooks," she added.
She went on to say that all those self-righteous self-proclaimed defenders of human rights who were on payroll of Mohsin Naqvi TV should know they were party to the prevailing fascist order, which was indulging in custodial torture and killings – inflicting state terrorism on its citizens.
She stated that the police and unknowns beat up two of Imran Khan's domestic staff and took away a third, the cook. "They also took away Imran Khan's brother-in-law. This is pure vengeance – part of the London Plan, as this is not how you implement even a search warrant," she added.
Dr. Mazari stated that it seemed that some within the state deliberately wanted to create a widening rift between the people and the State so that Pakistan weakens and accepts subservience to external powers.