Speakers explore Kashmir crisis, policy options for Pak in current scenario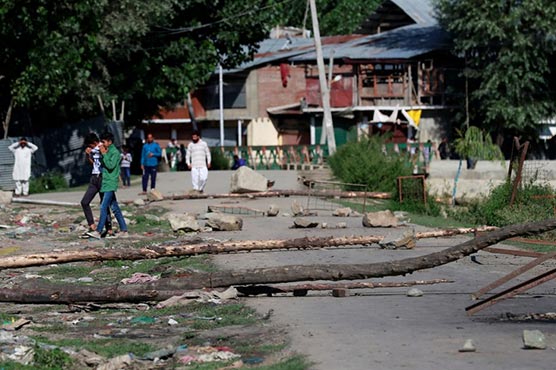 ISLAMABAD, AUG 29 (DNA) – MUSLIM Institute organized a seminar titled "Kashmir Crisis: Policy Options for Pakistan".
President Azad Jammu & Kashmir Sardar Masood Khan, Ambassador (R) Arif Kamal, Chairman MUSLIM Institute Sahibzada Sultan Ahmad Ali, Prof. Dr. Muhammad Khan and Dr. Shabana Fayyaz addressed the seminar.
British Author Ms. Victoria Schofield and Norwegian Former Parliamentarian Lars Rise shared their views via video message. Speakers observed that revocation of article 370 is direct attack on 'identity of Kashmir'. Abrogation of article 370 is actually for demographic changes which are already engineered and now RSS backed BJP government is going to apply them.
Revocation of article 370 is illegal under international law. Extremist Indian government is moving Hindus inside Kashmir and will continue until the stage of demographic change when India can control the plebiscite.
The dilemma is that whenever there is tension or conflict on Kashmir the entire international community gets into business to stop the war but leaves the Kashmir issue unresolved. Now in the current crisis, it is chance for Pakistan to bring Kashmir on international agenda and ask international community to resolve the Kashmir issue.
International community should be persuaded for demilitarization of Kashmir. Kashmir is humanitarian issue. Pakistan should persuade international community about the sufferings of the people and ensure that Pakistan is getting diplomatic support.
Pakistan needs to invest and lobby in the South Asian neighbours. Academics from other countries should also be sensitized. Indian claim for whole of Jammu & Kashmir itself is a proof that Jammu & Kashmir is a disputed territory.
Simla agreement cannot supersede UN Security Council resolutions. Practically Simla agreement is not intact because Simla agreement clearly says that unilateral steps cannot be taken. Therefore, Pakistan should revisit the Simla agreement.
After all the Indian unilateral steps, failure of bilateralism, Pakistan has all the right for unilateral steps to support Kashmiris and to resolve Kashmir issue. For an out of box constructive narrative, this is a wholesome job where people, defence institutions, political parties, civil society and all other stakeholders should give their contribution.
Like National Action Plan, we should formulate National Kashmir Policy with the consensus of all political parties. Mixture of kinetic and non-kinetic approach should be adopted for Kashmir policy and in this regard hybrid policy should be persuaded.
 Social and print media can play their important role in this regard. We should institutionalize the Kashmir identity. Institutional framework is required in this regard for the better policy on Kashmir.
Kashmiri youth living in Azad Jammu & Kashmir should be encouraged to play their role as being indigenous to this issue. History of struggle of Kashmiris tells us that they are not losing hope and struggling for freedom of Kashmir.
Pakistan should convince the unconvinced people who are misled whether from Muslim world or otherwise. In any solution to the Kashmir issue consent of people of Kashmir should always be regarded. =DNA
============================