Spain vote may change govt, but not foreign policy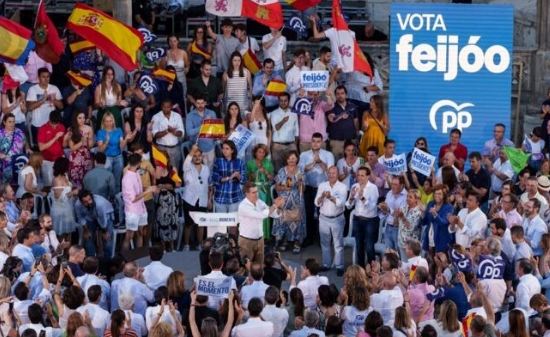 Madrid, July 16 (DNA): From defending Spain's interests within the EU to its tortuous relations with Morocco, there will be no shortage of foreign policy challenges for right-wing leader Alberto Nunez Feijoo if he wins the July 23 election.
But the main challenge will undoubtedly be more personal, according to analysts: to assert himself on the international stage to ensure Spain's voice continues to be clearly heard.
At the helm of the right-wing Popular Party (PP) for the past year, Feijoo, 61, "doesn't have a great track record in international politics," said Ignacio Molina, senior analyst at the Elcano Royal Institute, a Madrid think-tank.
And judging by his campaign, "he is not going to take any decision which will involve any big change in foreign policy, whether that be within the EU, NATO or in the defence of Spain's interests," he told AFP.
The PP's programme states that a Feijoo government would continue "military, economic and humanitarian support to the Ukrainian people where necessary" as well as "support for sanctions against Russia".
The PP also said it would raise defence spending to 2.0 percent of Spain's GDP, the military spending target set for member states by the North Atlantic Treaty Association (NATO).
– EU, Maghreb ties –
Since Socialist leader Pedro Sanchez became prime minister in 2018, Spain has been very active on the EU stage after years of taking a back seat, and Feijoo's challenge will be to ensure that continues, Molina said.
"The problem for Feijoo will be maintaining this increase in Spain's influence that there was under Sanchez," he said.
Speaking to CNN in June, Economy Minister Nadia Calvino said Spain had transformed its role within the EU, expressing concern that this could change if the right came to power.
"We have brought the voice of Spain to a different level… Spain is now occupying the place that should correspond to the fourth European economy, which was maybe not the case in the past," she said.
And any presence on the international stage is likely to be more complicated for Feijoo who, unlike Sanchez, does not speak English.
If elected, Feijoo — who would take over during Spain's turn at the head of the EU presidency that began on July 1 — would have to reassure Brussels about several worrying issues, notably if the far-right Vox enters government.
Among matters of concern are environmental and social issues.
Aside from handling the EU, a Feijoo government would have to grasp the nettle of its tricky relationship with Algeria and Morocco, who are powerful but bitter rivals.
Feijoo would have to manage a situation complicated by Sanchez's 2022 decision to abandon Spain's policy of neutrality on Western Sahara, agreeing to back Morocco's autonomy plan for the disputed region to end a lingering diplomatic spat with Rabat.
The move infuriated Algeria, which backs the Polisario Front, Western Sahara's independence movement, sending its ties with Madrid into a tailspin, which has notably hit trade.
– 'A balanced relationship' –
In its programme, the PP pledges to foster "a balanced relationship with the Maghreb countries" although Foreign Minister Jose Manuel Albares told La Vanguardia newspaper it would likely involve "a worrying return to anti-Moroccan positions".
For Feijoo, it will be "very difficult to change" the current policy on Morocco because Rabat has "means of pressure which partly explain the change in Sanchez's position", Molina said in a nod to migrant issues.
After Madrid's policy U-turn on Western Sahara, migrant arrivals to Spain fell by a quarter in 2022 compared with a year earlier.
Although a Feijoo government would adjust Sanchez's stated position, "there won't be an explicit reversal of it because it would be seen as a provocation by Morocco", Molina said.
For Feijoo — who until last year spent most of his political career in the northwestern Galicia region and has never shown any particular interest in foreign policy — the bar remains very high.
  "It's going to be a very significant political and personal challenge for him. He will have to learn and decide if he wants to lead foreign policy as Sanchez has wanted to." AFP/APP