Soldier shot dead in Saddar, Karachi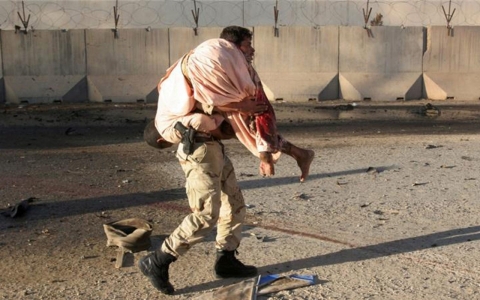 KARACHI: A soldier deployed in plainclothes in the Saddar area was shot dead late Wednesday when he intervened in an attempted robbery, police said.
According to police sources, suspected robbers shot and wounded two brothers, Mahesh and Pawan Kumar, in an attempted robbery while they were travelling in a rickshaw near Lucky Star.
The soldier intervened and managed to get hold of one suspect, who shot the soldier.
The injured soldier was initially taken to PNS hospital, where he died of bullet wounds to the chest, and was subsequently taken to Jinnah Postgraduate Medical Centre (JPMC) for a post-mortem.
In July, at least two security personnel were killed after unidentified gunmen fired on their vehicle near Parking Plaza in Karachi's Saddar area.
"They were the soldiers of the security agency who were critically injured," Karachi police chief Mushtaq Mehar told reporters. "One was later martyred," he said. Later, the injured security personnel succumbed to his wounds in hospital.
"The body was brought to JPMC at 3am. He died of wounds to his chest," said head of emergency at JPMC Dr. Seemin Jamali.
"We have collected some empty bullet casings of 9mm pistol from the scene, however, further investigations are still underway," he added.
Police said the soldiers were patrolling a crowded area of the city when their vehicle was attacked.
The suspect was taken into custody and a case will be lodged, the sources said.