Solangi for boosting coop with Russia in diverse fields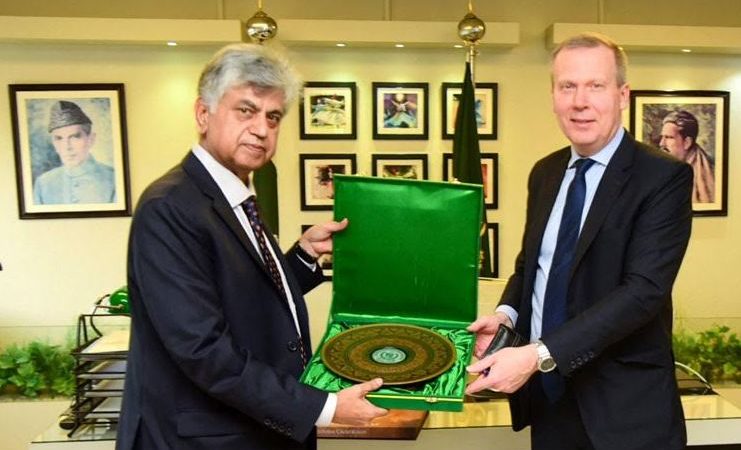 Russia wanted to cooperate with Pakistan in other spheres of life besides media, said the ambassador
DNA
ISLAMABAD: Caretaker Federal Minister for Information and Broadcasting Murtaza Solangi on Monday underlined the need for boosting cooperation with Russia in various fields including media, drama, films, joint productions and training programmes. The minister, in a meeting with Russian Ambassador to Pakistan Danila Ganich, also stressed that a formal invitation would be extended to his Russian counterpart for his visit to Pakistan. During the meeting, cooperation between the two countries in diverse fields including media and the modalities regarding the Russian information minister's visit to Pakistan were also discussed.
Possible signing of agreements between APP and TAAS News Agency, PTV and Russian Television and Russian Radio and Radio Pakistan during the visit of the Russian Minister also came under discussion during the meeting.
Both Solangi and the Russian Ambassador expressed the commitment of the two countries to strengthen relations in various fields including security, economy, education, culture and tourism. Pakistan valued its relations with Russia and it was desirous to expand cooperation with Moscow in the fields of media, drama, and films, the minister said.
They also discussed matters pertaining to organizing a ceremony in Islamabad on the completion of 75 years of diplomatic relations between Pakistan and Russia.
Solangi said both countries enjoyed long-standing ties and the business community and people of Pakistan were keen to strengthen the bilateral relation and find ways to achieve common goals.
"We are confident that our bilateral relations will continue to grow towards a bright future with the changing global scenario," Murtaza Solangi remarked.
The Russian Ambassador said Pakistan and Russia were cooperating with each other in every sphere of life including the media sector. Russia wanted to cooperate with Pakistan in other spheres of life besides media, said the ambassador. He said that Pakistani television dramas were very popular in Russia.