Six injured as bombs thrown at Bangladesh navy mosque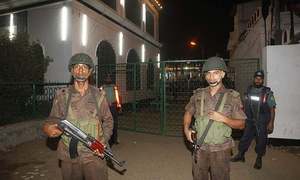 CHITTAGONG: Two bombs exploded at a mosque inside a navy base in the Bangladesh port city of Chittagong on Friday, injuring six, police said, adding that two people have been arrested.Police said the mosque inside the Isha Khan naval base in the southeastern city was packed with worshippers attending Friday prayers when several bombs were thrown."Of the five bombs thrown at the mosque, two exploded. They looked like small grenades. Six people were injured," Deputy Commissioner of the Chittagong Metropolitan Police (CMP) Harun Ur Rashid Hazari told .
Two people were arrested at the scene but no group has yet claimed responsibility for the attack, he said.
Chittagong police chief Abdul Jalil Mandal confirmed the attack, saying the bombs were thrown towards the end of the weekly prayers.