Six FC men injured in Peshawar blast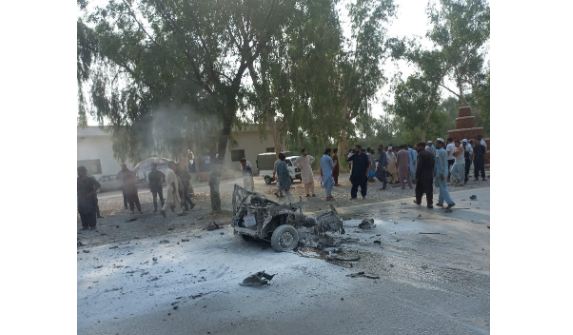 Staff Report
PESHAWAR: Six personnel of the Peshawar Frontier Corps (FC) were injured in a blast as their convoy came under attack in Peshawar's Hayatabad area on Tuesday, police said.
It was an attack on a convoy of the paramilitary force that was moving through Hayatabad's phase 6, Cantt SP Waqas Rafi said while speaking to the media near the site of the blast soon after the incident.
Footage broadcast on television from the site showed a crowd of people on the road where the blast purportedly took place. The charred remains of a vehicle could be seen in the distance.
Later, Peshawar SSP (Operations) Haroon Rasheed said in a statement that an "explosive-laden vehicle" was used in the attack.
"We are further investigating the matter," the statement said, adding that a search operation was under way.
In his media talk, SP Rafi also said that police were "looking into the matter and collecting further details. The area has been cordoned off".
"We will get to the bottom of this matter, and the culprits involved in the incident will be exposed," he pledged.
He earlier told Dawn.com that the incident seemed to be a "suicide blast", adding that a bomb disposal squad was collecting evidence from the scene to ascertain the nature of the incident.
Both officials confirmed that six people had been injured in the blast, with the SSP saying that all of them were FC personnel.