Siraj wants politicians agree on people's welfare plans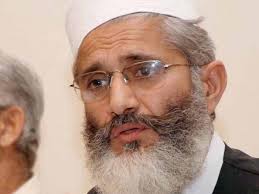 MARDAN, Oct 25 (DNA): Ameer, Jamaat e Islami, Pakistan, Senator Sirajul Haq,  has reiterated his suggestion to the political leadership to sit together and prepare solid and long term plans for solving the problems of the common ma. Addressing a Donors conference at Mardan on Sunday, he stressed upon the rulers to give up their Moghul style and attend to the problems of the masses.He said it was only during election campaign that the political leaders talked of the people's problems but abandoned them afterwards. He said the problems of the people had remained unsolved even after the passage of two years of the present government.
JI deputy chief Mian Muhammad Aslam, General Secretary, JI, Khyber P, Shabbir Ahemd Khan and other party leaders were also present.
Sirajul Haq said he had urged Prime Minister to press for Dr Aafia Siddiqui's release during his meeting with US President Obama and ensure that she could accompany him back to the country but it appeared that the Premier had returned empty handed.
He said that the country was facing numerous problems and sectarianism was being fanned under a plan. Besides, he said that hundreds of thousands of IDPs were living in camps as winter was setting.
The government had not taken adequate steps for their return to their homes. He said the JI had held several Jirgas to press for the timely return of the IDPs but there had been no progress on this score.
The JI chief said that the JI was arranging a meeting of senior lawyers at Islamabad on October 29 to find out the modus operandi for getting rid of the interest system within the present laws because interest was the root causes of our economic problems.
He also urged the government to decide the fate of the tribal areas by either declaring them as a new province or merging them with Khyber P. He said the tribal people had great sense of deprivation while the JI wanted the tribal people to have equal rights. DNA
==========