Shaukat Tarin elected Senator after winning election by 87 votes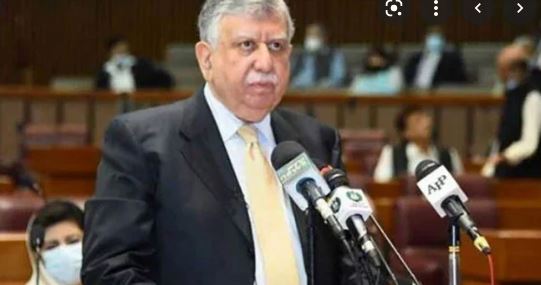 PESHAWAR, DEC 20 (DNA) — Adviser to Prime Minister on Finance and Revenue and Pakistan Tehreek-e-Insaf (PTI) candidate Shaukat Tarin has elected a senator on a vacant seat from Khyber Pakhtunkhwa (KP).
According to unofficial results, Shaukat Tarin grabbed the Senate seat of Khyber Pakhtunkhwa after securing 87 votes. ANP candidate Shaukat Amirzada and JUI (F) candidate Zahir Khan got 13 votes each.
According to provincial Finance Minister Taimur Jhagra, as many as 122 members of the KP Assembly cast their votes while 22 abstained from voting. Nine votes were rejected while 87 votes were balloted in favour of Shaukat Tarin.
Out of 145 members of KP Assembly, 123 MPAs used their right of vote. Those 22 members who did not poll their votes mostly belonged to the opposition. The polling for the vacant Senate seat was started at 9am today (Monday) and concluded at 4pm. The KP parliamentarians cast their votes at the Old Hall (Jirga Hall) of the Khyber Pakhtunkhwa Assembly.
The seat was vacated by PTI senator from KP Ayub Afridi ostensibly to make way for PM Advisor on Finance Shaukat Tarin to become a senator. Four candidates were vying for the Senate seat. From the ruling PTI, Finance Advisor Shaukat Tarin; from ANP, Shaukat Amirzada; from PPP, Muhammad Saeed and from JUI (F), Zahir Shah Khan were contesting for the seat.
In the KP assembly, the strength of JUI (F) members is 15, ANP 12, PML-N 7, PPP 5, Balochistan Awami Party 4, and the number of independent is 4. The Jamaat-i-Islami has got 3 while the PML-Q has got 1 vote. The Senate candidate was required to bag more than 50% votes of the 145 members of the assembly.
After being elected a senator, Shaukat Tarin expressed gratefulness to Allah Almighty for winning the by-polls. He also thanked Prime Minister Imran Khan, lawmakers and the nationals for showing confidence in him.
The newly-elected senator said that he will make efforts for KP to get hydel power profits and vowed that he will visit the province every month besides working efficiently for the citizens.