Shahdat-e-Imam Ali Raza conference held at PAC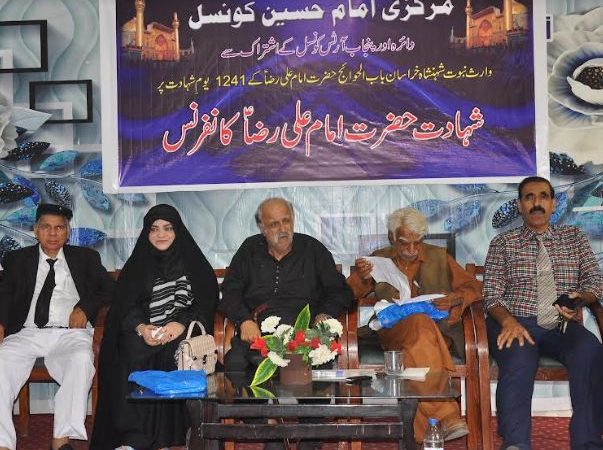 DNA
Rawalpindi, JUN 17: Punjab Arts Council in collaboration with Central Imam Hussain Council organized "Martyrdom of Hazrat Imam Ali Raza Conference", on the occasion of the 1241st Martyrdom Day of Imam Ali Raza, the great figure of the Islamic world.
The conference was presided over by prominent scholar Dr. Ghazanfar Mehdi, Chairman Central Imam Hussain Council. Dr. Ghazanfar Mehdi said in his address that Hazrat Imam Ali Raza was against the monarchy and was the bearer of the constitutional and democratic rights of human beings. Hazrat Imam Ali Raza teachings should be including in the syllabus.
Aliha Johari, a scholar who came from Iran, said that Hazrat Imam Ali Raza was the advocate of the unity of the world of Islam and the unity of the Ummah. Eminent jurist M. Iqbal Kokab Advocate said that the personal servant of Hazrat Imam Ali Raza was the mentor of famous Karkhi Hazrat Data Ganj Bakhsh Ali Hajveri. From this point of view, all saints of this region have received grace from Imam Pak. President Daira, Ehsan Kabaria said that promoting the teachings of Hazrat Imam will increase unity among human beings and will end war, strife and bloodshed.
Terrorism and sectarianism can be eradicated by following. Sabatin Raza Lodhi passed the resolution for the eradication of terrorism and sectarianism and offered Fatiha for the martyrs of various services. Director of Punjab Arts Council Rawalpindi Waqar Ahmad thanked the participants. Allama Salim Haider offered Fatiha for the peace and stability of the country. Allama Salim Haider, Jahanzeb Jamal Chishti, Akhlaq Zaidi, Rifat Anjum, Mohammad Rafiq Mughal, Raza Kazmi, Naeem Akram Qureshi and others addressed the event.