Seminar on "Route to International Certifications for Pharmaceutical Companies" begins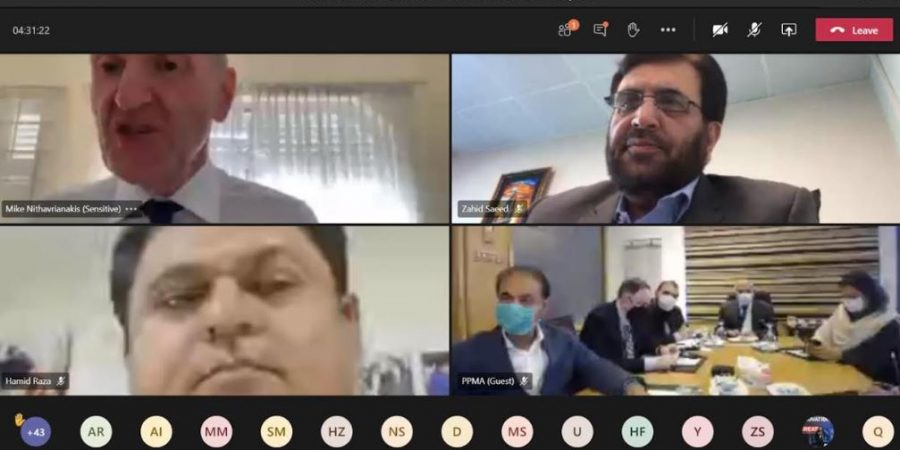 DNA
KARACHI, DEC 16 –  UK government's Department for International Trade hosted a virtual seminar in collaboration with Pakistan Pharmaceuticals Manufacturers' Association (PPMA) and Woodley BioReg Limited UK on "Route to International Certifications for Pharmaceutical Companies".
The event, chaired by the Deputy High Commissioner Karachi and Trade Director, Pakistan Mike Nithavrianakis brought together local pharmaceutical companies interested in getting their manufacturing facilities compliant to global manufacturing standards and a UK based consultancy firm on Medicines and Healthcare products Regulatory Agency (MHRA) and Good Manufacturing Practices (GMP).
The list of those attending were: Mr Tauqeer Ul Haq (Central Chairman PPMA, Mr Ash Ramzan (Principal Consultant, Woodley BioReg Limited), Ms Mahwash Khan (Chairperson PPMA South Zone) and Rehan Shahid (Senior Trade Manager).
Deputy High Commissioner and Trade Director Mike Nithavrianakis highlighted how the UK's expertise can be utilised to help local pharmaceutical companies achieve international certifications and expand their export markets.
Deputy High Commissioner and Trade Director Mike Nithavrianakis said:
·       "The pharmaceutical industry is among the fastest-growing sectors in Pakistan and has recorded double-digit growth rates in the last four years. However, the export potential of this industry remains under-utilised and this can be addressed by getting local manufacturing facilities certified to international standards. Our aim is to provide detailed guidance on the process of international certification and an overview of the UK's quality standards and regulatory requirements for Pharmaceuticals, Nutraceuticals and Medical Devices. We are excited about the potential for the UK and Pakistan to work ever more closely in this sector."