SC allows houbara bustard hunting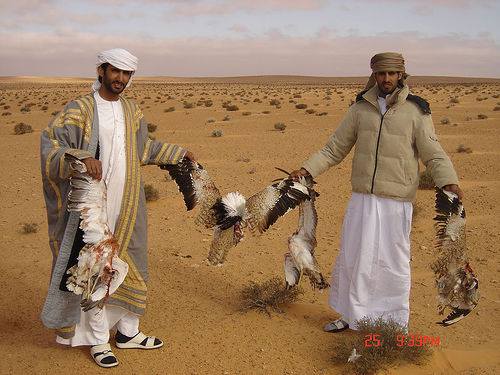 ISLAMABAD, 22 JAN (DNA) – Supreme Court of Pakistan (SCP) on Friday lifted a ban on houbara bustard, a rare desert bird whose meat is prized among Arab sheikhs for being an aphrodisiac.
A five-member larger bench of the apex court announced the verdict on the review petitions filed against the ban imposed by a three-member bench of the apex court.
During the proceeding, the court approved review petitions of the federal and provincial government. The decision was favoured by four out of five judges of the larger bench. Justice Qazi Faiz Essa wrote a dissenting note, opposing the decision. The apex court in its verdict declared that there are loopholes in the verdict of three-judge bench announced on 19 August 2015.
In August last year, a three-member bench headed by former chief justice Jawwad S. Khawaja imposed a ban on the hunting of endangered birds and ordered the cancelation of all existing permits issued by the government. In October, the federal government and governments of Punjab, Balochistan and Sindh had asked the court to review the decision.
A provincial High Court in Balochistan in November last year also cancelled all permits for hunting in the province, but the federal government headed by Prime Minister Nawaz Sharif continued to issue licenses. Wildlife campaigners had welcomed the decision by Supreme Court to ban the hunting of a rare desert bird.
Wealthy hunting parties from the Gulf travel to Pakistan's southwestern Balochistan province every winter to kill the houbara bustard using hunting falcons, a practise that has sparked controversy in recent years because of the bird's dwindling numbers.
The issue has also cast a spotlight on traditionally close ties between Pakistan and its allies in the Arab world, particularly Saudi Arabia. The International Union for Conservation of Nature includes the bird on its 'red list' of threatened species, estimating there are fewer than 97,000 left globally. DNA