Saudi Arabia keen to expand business ties with Pakistan, ambassador tells ICCI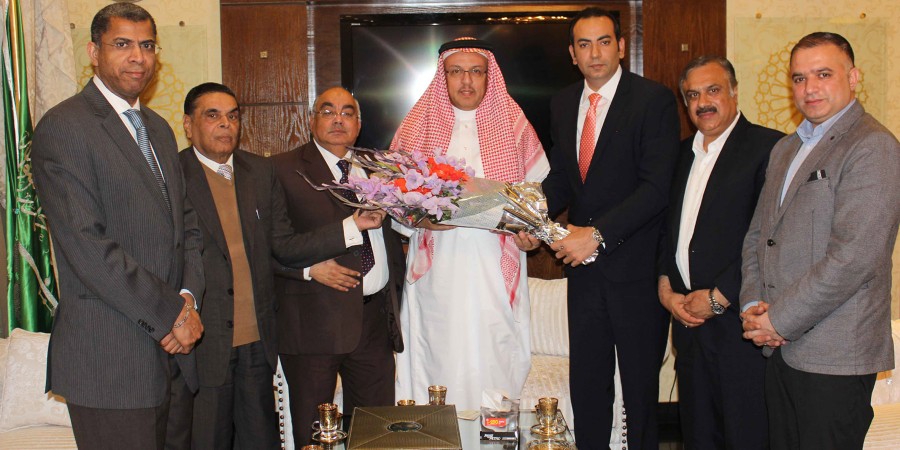 ISLAMABAD, MAR 07 (DNA) –Abdullah Marzouq Al-Zahrani, Ambassador of Saudi Arabia has said that his country considered Pakistan an important trading partner and wanted to further enhance import of many products from Pakistan.He expressed these views in a meeting with a delegation of Islamabad Chamber of Commerce and Industry that called on him. The delegation was led by its President Atif Ikram Sheikh.
Sheikh Pervez Ahmed, Senior Vice President and Sheikh Abdul Waheed, Vice President Islamabad Chamber of Commerce and Industry, Iftikhar and Tanveer Afsar Malik were also in delegation.
The ambassador further said Pakistani entrepreneurs have tremendous opportunities to promote trade with Saudi Arabia by improving the quality of their products.
He said Saudi investors were interested in investment and joint ventures in various sectors of Pakistan's economy.
He identified steel manufacturing and food processing as potential areas for joint ventures between the two countries.
He stressed that both countries should organize single country exhibitions and encourage frequent exchange of trade delegations to explore all untapped areas of mutual collaboration. He assured that his Embassy would facilitate Pakistani business community in visiting to explore for business opportunities.
Atif Ikram Sheikh President, Sheikh Pervez Ahmed Senior Vice President and Sheikh Abdul Waheed Vice President, Islamabad Chamber of Commerce and Industry said that Pakistan and Saudi Arabia enjoyed cordial relations that should be transformed into growing trade and economic relations.
They said Pakistan was exporting few products to Saudi Arabia like textiles, rice, meat, fish, spices, food and vegetables while there was great scope to export more products including high quality medicines, cement, steel and many other industrial products to the Kingdom of Saudi Arabia.
They said lucrative opportunities for Saudi investors existed in many sectors of Pakistan's economy including oil & gas, petroleum & petrochemicals, energy, textiles, banking & financial services, fertilizer, gems & jewellery, light engineering, furniture, food & fruit processing, packaging, livestock, dairy farming, fisheries, infrastructure development etc.
They stressed that Saud investors should be apprised of these prospects so that they could take full benefit of investment opportunities in Pakistan.=DNA