Pakistan ready for dialogue with India, says Sartaj Aziz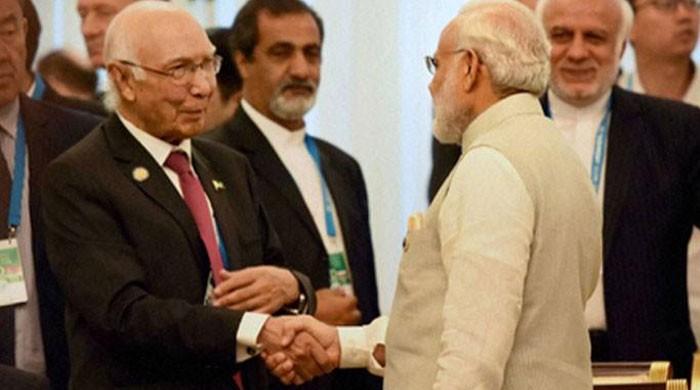 ISLAMABAD, DEC 04, (DNA)  -Advisor to PM on Foreign Affairs Sartaj Aziz said Pakistan is ready for dialogue with India whenever India is ready.
In an interview with an Indian publication on Saturday, Aziz, who is representing Pakistan in the ongoing Heart of Asia Conference in Amritsar, said Pakistan wants peace and is ready to come to the table for negotiations with India.
He said that the conference focuses on the complex security situation facing the region and as a result, terrorism and extremism are likely to come under discussion in event of negotiations with India. He added that negotiations are crucial for maintaining peace in the region.
Sartaj Aziz meets Afghanistan President
Sartaj Aziz met Afghanistan President Ashraf Ghani during the Conference earlier today (Sunday) where the two leaders held talks on peace and progress in the region and security situation in Afghanistan in particular.
Aziz, Modi exchange pleasantries
Sartaj Aziz arrived in Amritsar on Saturday to participate in the Heart of Asia Conference, where he also attended a banquet hosted in honour of representatives from different states and international observers.
The dinner was hosted for the visiting dignitaries at a heritage village named 'Sadda Pind (our village)' located on the outskirts of Amritsar. Indian Premier Narendra Modi and Afghan President Ashraf Ghani also attended the banquet hosted by Punjab Chief Minister Parkash Singh Bada
Sartaj Aziz shook hands with PM Narendra Modi, where the latter inquired with him about Prime Minister Nawaz Sharif. Aziz conveyed PM Sharif's best wishes to Narendra Modi, which the Indian premier reciprocated with his well wishes for his Pakistani counterpart.
Earlier upon his arrival, he was received by Pakistan High Commissioner to India Abdul Basit and joint secretary of Indian Ministry of External Affairs.
Sartaj Aziz also sent a bouquet to Indian External Affairs Minister Sushma Swaraj at her residence extending his sincere wishes for her speedy recovery.
The advisor is representing Pakistan in the Heart of Asia Conference with focus on regional cooperation between Afghanistan and its neighbours, and the efforts for durable peace in the war-ravaged country.
"Pakistan has always had key significance and played an important role with regard to peace and stability in Afghanistan," Pakistan High Commissioner Abdul Basit said, while speaking to media in Amritsar.
He added the foreign advisor's address with the regional summit tomorrow will be pivotal to Afghanistan and there is no exclusive meeting scheduled between India and Pakistan on the sideline of the conference. All focus will be on Afghanistan.
On Sunday, Indian Prime Minister and Afghan President jointly inaugurated the two-day summit being attended by around 40 foreign ministers and dignitaries of 14 participating countries in Indian city of Amritsar.
The Heart of Asia – Istanbul Process was launched in 2011 with the objective to boost economic and security cooperation.
Its members include Afghanistan, Pakistan, Azerbaijan, China, India, Iran, Kazakhstan, Kyrgyzstan, Russia, Saudi Arabia, Turkey, Tajikistan, Turkmenistan, and the United Arab Emirates.
The initiative has the support of Australia, Canada, Denmark, Egypt, France, Finland, Germany, Iraq, Italy, Japan, Norway, Poland, Spain, Sweden, Britain and the United States.
Sartaj arrived in India ahead of schedule on Saturday instead of Sunday. The sudden change in schedule has been seen as part of last-minute efforts for talks with India on the sidelines of Heart of Asia conference.
Sources at Pakistan Foreign Office, however, said Aziz departed early in view of weather conditions.
The regional moot began on Saturday in Amritsar with foreign secretary session held on its first day.
His meeting with Afghan representatives at the Heart of Asia conference is being seen as vital to the bilateral ties between the two countries in coming days.
The conference has been taking place at a time of heightened tensions between the two nuclear-armed neighbours over Kashmir and continuing skirmishes at the border.
Earlier on Thursday, FO spokesman Nafees Zakaria said that Pakistan, despite India's negativity in scuttling SAARC, would attend the Heart of Asia Conference due to its commitment to Afghanistan's peace and stability.
He added that Pakistan would not accept any pre-conditions for holding dialogue with India.
Zakaria said, "The current phase of indigenous self-determination movement in Indian occupied Kashmir had entered into the fifth month and was continuing in the face of worst violations of human rights of defenceless Kashmiris at the hands of Indian occupation forces."
Earlier on Saturday, Pakistan High Commission in New Delhi fell prey to India cash crunch as banks refused to grant Indian currency to its staffers in return for dollars.
Pakistan has lodged a protest with Indian Ministry for External Affairs saying this treatment of diplomatic staff was in 'sheer violation of the Vienna Convention'.=DNA
=================