Sanjrani welcomes Saudi investment, keen interest in mining, natural resources sector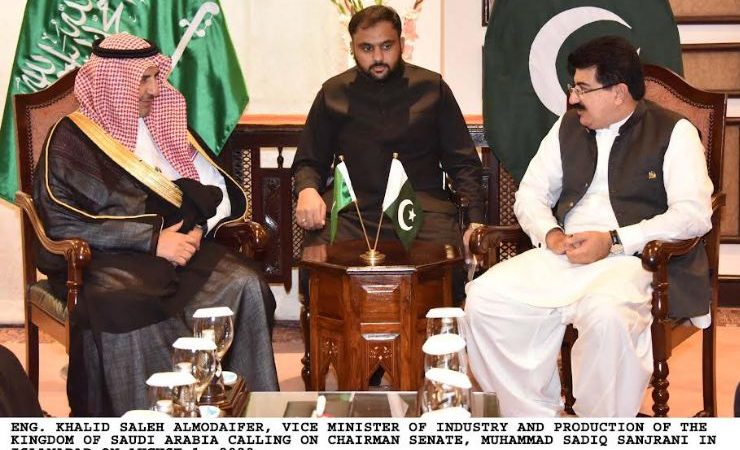 ISLAMABAD, AUG 01 (DNA) — Chairman Senate Muhammad Sadiq Sanjrani has said that Balochistan is the heart of Pakistan's mineral wealth and this treasure needs exploration.   The Chairman Senate was exchanging views with a delegation of Kingdom of Saudi Arabia led by Eng.
Khalid Saleh Al-Modaifer, Vice Minister of Industries and Production at a local hotel here in Islamabad on Tuesday. Chairman Senate while welcoming the delegation said that this visit is a testament to the strengthening ties between Pakistan and Saudi Arabia.
He admired Saudi Arabia's achievements and expertise in the field of mining and expressed hope to find avenues of collaboration and mutual benefits. He said that Saudi Arabia has always stood by the side of Pakistan through thick and thin. "Our ties are deep rooted and our brotherhood is unique", the Chairman Senate said.
He observed that the province of Balochistan is blessed with reserves of copper, gold, coal, sulfur and other natural resources. Investment in these sectors will not only be beneficial for Saudi investors but would also play a critical role in uplifting the economic condition and quality of life in Balochistan and Pakistan at large.
The province of Balochistan due to its geo strategic location and Gwadar Port has the potential to become a hub of commercial activities in the region. He especially thanked the Saudi leadership, the King and the Crown Prince for various initiatives aimed at enhancing multi-sector investment in Pakistan.
Leader of the Saudi delegation agreed with the views of Senate Chairman and said that the friendship between the two countries is time tested. He greeted Pakistani leadership for hosting an important mineral summit to bring together international investors on a single platform and enter into possibility exploring investment options.
The Saudi Leader also termed the establishment of a Special Investment Facilitation Council a huge success which will help attract foreign investment in the country. The Saudi Vice Minister further expressed his felicitations on the Reko Diq settlement. He hoped that both Pakistan and Saudi Arabia would benefit from the investment opportunities offered by the mineral sector of Balochistan province.
Chairman Senate expressed his well wishes to the Saudi Leadership including the King Salman Bin Abdul Aziz Al-Saud, Crown Prince Mohammad Bin Salman Al-Saud while appreciating Saudi willingness to engaging fruitful partnership and working towards a most prospers future.
Pakistani delegation comprised of Senators Mohammad Abdul Qadir, Prince Ahmed Umer Ahmadzai, Manzoor Ahmed Kakar and Naseebullah Bazai. Saudi Ambassador to Pakistan Nawaf Bin Said Al-Maliki was also present during the meeting. — DNA