Revolutionize Policy: PIDE VC urges visionary ideas for stratospheric progress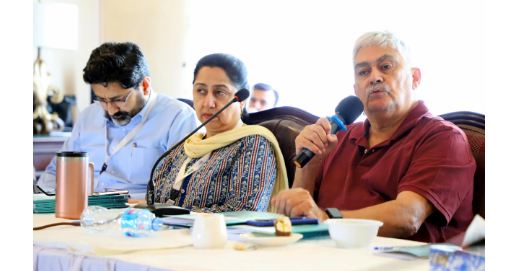 Diverse Topics and Expert Insights Dominate Day Two of the PIDE-RASTA Conference
Need to focus on progress and move forward with the ideas presented to policymakers: VC, PIDE
ISLAMABAD, SEPT 15 /DNA/ – Pakistan Institute of Development Economics (PIDE), through its Research for Social Transformation and Advancement (RASTA) program, successfully concluded its 3rd RASTA conference at the Gun & Country Club in Islamabad. The conference encompassed a wide array of research themes, including Urban Development and Industry, Law and Judiciary, Human Capital and Opportunities, Sludge and Dead Capital, Education and Technology, and Public Finance Management and Financial Inclusion. These sessions provided an extensive and multifaceted examination of their respective topics, thereby contributing significantly to a deeper comprehension of the pertinent issues.
The conference witnessed enthusiastic participants presenting their studies within these overarching themes, offering localized solutions to pressing challenges. Distinguished contributors represented various esteemed institutions such as the University of Illinois Chicago USA, Government College University Faisalabad, NUML Islamabad, Government College University Lahore, Jamal and Jamal Advocates and Legal Consultants Islamabad, University of Peshawar, BUITEMS Quetta, University of Punjab, and Lahore College for Women University, Lahore. This gathering of diverse minds underscores RASTA's steadfast commitment to nurturing collaborative research aimed at positively influencing Pakistan's policy landscape.
Dr. Nadeem ul Haque, Vice-Chancellor of PIDE and Chairman of the RASTA Research Advisory Committee (RAC), emphasized that RASTA represents an evolving process. He stressed the importance of conducting local research and finding tailored solutions to local issues while acknowledging the value of global research that aligns with local needs and requirements. Dr. Haque emphasized the need to focus on progress and move forward with the ideas presented to policymakers, advocating for a distinctive local flavour in research. He praised RASTA's inclusivity, highlighting how it has exposed policymakers to new perspectives and emphasized the critical nature of inclusive research.
The 3rd RASTA Conference continued its intellectual journey on its second day, featuring a compelling lineup of presentations that explored various facets of Pakistan's economic and legal landscape. Esteemed speakers from academia and research circles engaged in thought-provoking discussions on pressing issues.
In the first session, Saad S. Khan examined the "Critical Appraisal of Legal Institutional Structure of Revenue Courts in Pakistan: Minimizing Sludge in Agricultural Property Cases," shedding light on the complexities within the legal system. Moazzam Ali presented a case study titled "Alternate Use of Public Assets: A Case Study of Allama Iqbal Open University," exploring efficient public resource utilization. Anwar Muhammad Aslam addressed "Unlocking Pakistan Railways Dead Capital," discussing strategies to optimize the potential of Pakistan's railway infrastructure. Alvina Sabah Idress analyzed "Factors Associated with School Dropout in Pakistan: An Assessment Using Survival Analysis," offering valuable insights into the education sector. Ghazanfar Iqbal advocated for a solution to K-12 education problems with his presentation on the "Framework for Mainstreaming Career Education." Verda Salman highlighted "Technology Adoption in Islamabad Police," showcasing innovative approaches in law enforcement. Abedullah Anjum, Chief of Research at PIDE, contributed to the discussion on self-sufficiency in edible oil production with his comprehensive report titled "Investigation of a Value Chain of Edible Oil to Identify Possible Policy Interventions to Achieve Self-sufficiency."
In the second half, Muhammad Ahmad Barula explored "Taming the Leviathan towards Public Sector Resources Efficiency: Fiscal Federalism or Fiscal Decentralization in Pakistan," addressing governance and resource allocation. Ameen Shakeel engaged in a discourse on the "Withholdingisation of the Taxation System: Beneficial or Not?" examining the implications of the taxation system. Fareena Armugan delved into "Firm's Financial Inclusion and Export Performance: Evidence from Manufacturing Sector Firms in Pakistan," shedding light on economic development strategies.
The second day of the RASTA Conference was characterized by rich discussions, robust debates, and the exchange of ideas among experts and attendees alike. The conference continues to serve as a pivotal platform for intellectual exploration and the exchange of knowledge.
RASTA, Pakistan's premier economics and public policy research grants program, remains at the forefront of shaping the nation's policy discourse. With an unwavering commitment to fostering an extensive knowledge network, RASTA has emerged as a pivotal force in producing high-quality, evidence-based policy research. This dynamic initiative boasts participation from over 60 universities, collaboration with more than 10 international institutes, and involves a talented cadre of over 2,300 researchers and academicians. RASTA's steadfast dedication to knowledge-driven solutions is propelling Pakistan towards a brighter and more prosperous future, underpinned by data-driven policy decisions.