Remarkable success achieved through effective counter-terrorism strategy: Dar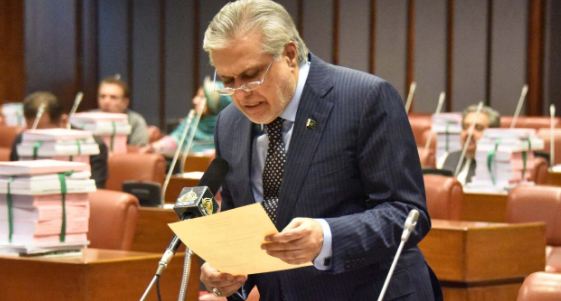 ISLAMABAD, NOV 10 (DNA) — Leader of the House in Senate, Senator Ishaq Dar on Friday said that the Zarb-e-Azb operation, launched during the PML-N tenure, achieved remarkable success in countering militants through the implementation of a well-defined strategy aimed at curbing terrorism.
Speaking in the Senate, Ishaq Dar addressed various issues raised by the former Chairman Senate Mian Raza Rabbani, and fellow Senators. Reflecting on the global perspective in 2013, he highlighted Pakistan's ability to take decisive action against militants, expressing dissatisfaction with earlier efforts, particularly during the tenure of Pervez Musharraf.
Dar recalled proposing the Zarb-e-Azb operation to the National Security Committee after the 2014 budget, initially estimated at Rs. 100 billion per year, with the operation's duration later extended to four years. Despite the financial challenges, he took the decision in the best interest of the country and committed to provide budget for it.
He underscored the PML-N's commitment to providing Balochistan its due share under Article 172(3) during its tenure, urging adherence to the same article for transactions after June 2023.
He recalled the PML-N's three Es strategy—Economy, Electricity, and Elimination of Extremism—instituted during Nawaz Sharif's tenure, which successfully contributed to restoring peace in the region. Karachi, in particular, witnessed a complete restoration of peace within eighteen months, he added.
PPP leader Mian Raza Rabbani drew attention to the surge in terrorist acts in the country and said that the frequency of such activities had increased, resulting in the deaths and injuries of security force jawans.
He expressed the view that external forces aimed to destabilize Pakistan. Rabbani said that dialogue and development would ensure peace in the Balochistan province.
PPPP's Behra Mand Khan Tangi expressed support for the caretaker government's decision to urge illegal residents to leave the country, emphasizing the importance of valid documentation for residing and conducting business in Pakistan.
PTI Senator Dr. Zarqa Suharwardy Taimur criticized the Modi government for alleged atrocities in Indian Illegally Occupied Jammu and Kashmir and for propagating against Pakistan. — DNA