RCCI inks MoU with Greek-Pakistan Entrepreneurship Cooperation Initiative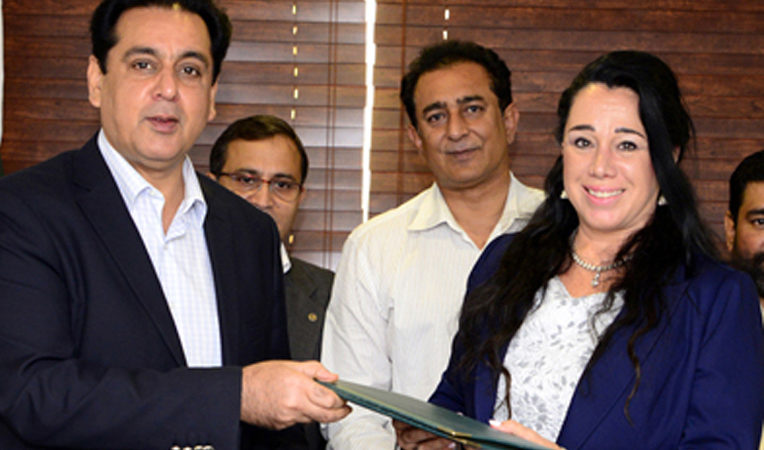 RAWALPINDI, SEPT 13 (DNA) – The Rawalpindi Chamber of Commerce and Industry (RCCI) and Greek-Pakistan Entrepreneurship Cooperation Initiative has signed a Memorandum of Understanding (MOU) here on Wednesday. President RCCI Raja Amer Iqbal and President Greek-Pakistan Entrepreneurship Cooperation Ms. Maria-Rubina G. Markopoulou signed and exchange documents at a ceremony attended by Chamber representatives including Senior Vice President Rashid Waien, Vice President Asim Malik and members' of the executive committee.
 While commenting on the occasion, RCCI President Raja Amer Iqbal said that the major objective of this MOU was to promote bilateral trade ties and mutual benefits of the business communities of the both countries. Both parties will cooperate with each other to establish and develop direct and effective business relations between their respective offices and to facilitate arranging business to business (B2B) meetings on reciprocal basis. Raja Amer Iqbal also gave a short briefing on RCCI key initiatives, exhibitions and Women Business Incubation Center (WBIC).
Earlier, Ms. Maria-Rubina Markopoulou paid a visit to WBIC and appreciated the role of RCCI in promoting business activities and empowering women entrepreneurs. She expressed hope that WBIC will help women entrepreneurs to establish and run their own businesses. She assured her full support for providing trainings, support and mentorship for women entrepreneurs in Pakistan.
Under the agreement, both parties will assist each other in organizing exhibitions, conferences, seminars, international fair, research and development, information sharing, mutual trade and joint ventures.