Rashid says CPEC to bring prosperity in Gilgit-Baltistan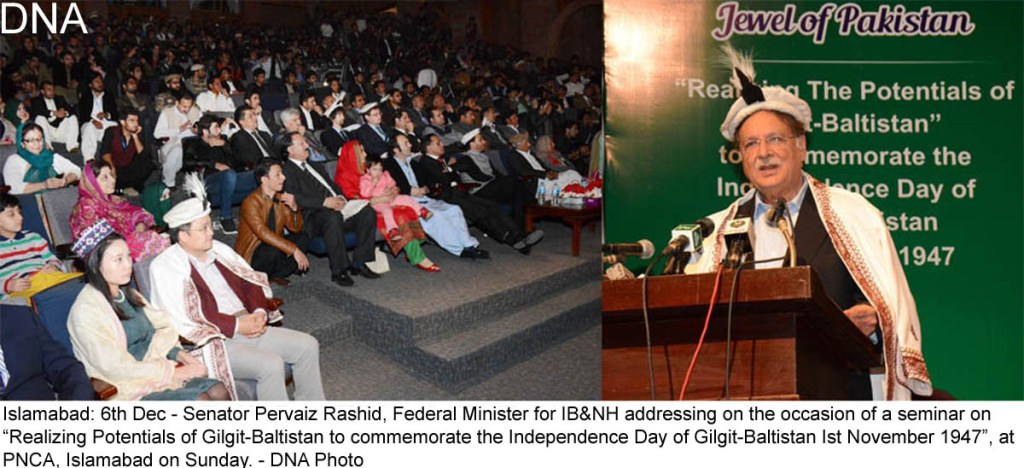 ISLAMABAD, Dec 06 (DNA): Minister for Information and Broadcasting Pervaiz Rashid on Sunday stressed the need for working together to make the country safe and better place to live.
Addressing a ceremony in connection with Independence Day of Gilgit-Baltistan in Islamabad, the Minister said the present government of PML (N) is paying attention towards the development of Gilgit-Baltistan.
Talking about China Pakistan Economic Corridor (CPEC), Pervaiz Rashid said the Corridor project will start a new era of development in the area. The Minister said it will connect Gilgit-Baltistan with Gwadar, Karachi and Central Asian Republics and promote trade, torism and economy.
He said the CPEC will create numerous opportunities of employment in the region.He appreciated the cultural diversity of Gilgit-Baltistan.
Addressing the ceremony, Chief Minister Gilgit-Baltistan Hafiz Hafeez-ur-Rehman says law and order situation has improved in Gilgit-Baltistan as a result of steps taken by the Government.
He said Prime Minister Nawaz Sharif is giving full attention on development of Gilgit-Baltistan. He said tourism is being promoted in Gilgit-Baltistan and six hundred thousand tourists have visited the area during the tenure of the present government. DNA