Qureshi, Khattak, Qaiser, Azhar anchor PTI's negotiation committee for poll talks with govt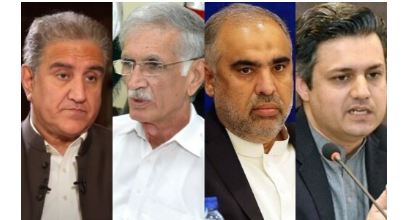 ISLAMABAD: Pakistan Tehreek-e-Insaf (PTI) constituted seven members 'Negotiation Committee' tasked to hold talks with the government pertaining to the elections.
The PTI has formed a negotiation committee for talks with the government on the instructions of the approval of party Chairman Imran Khan.
PTI Central Secretary General Omar Ayub Khan issued notification in this regard.
The seven-member team would decide the plan of action with the government regarding the elections.
The committee comprises party vice chairman Shah Mahmood Qureshi, PTI senior leaders Pervez Khattak, Asad Qaiser, Hammad Azhar, Haleem Adil Sheikh, Murad Saeed and Aon Abbas Buppi.