Qatar: America's best friend in the Gulf?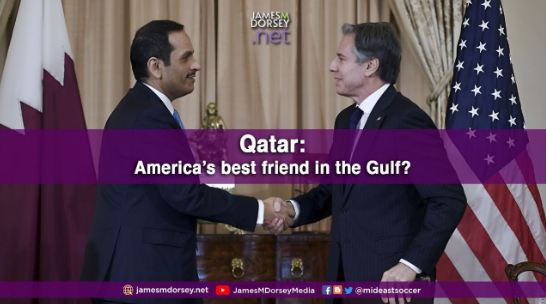 A recent 27-year, four million-tonne liquified natural gas (LNG) Qatari export agreement with China, the longest in gas export history, highlights different Gulf state approaches to navigating big power rivalry between the People's Republic and the United States.
Widely seen as giving China a grip on Qatari gas, the deal is as much a commercial agreement as it is a security arrangement. It acknowledges China as the Gulf state's foremost export market and gives China a stake in protecting Qatar.
Qatar is not alone in giving China preferential access to its energy reserves. So do other major Gulf exporters, such as Saudi Arabia and the United Arab Emirates, for whom China has become their foremost market.
The difference is that Qatar's energy dealings with China are embedded in a policy that broadly aligns the Gulf state with the United States, emphasises the Gulf state's utility as a go-between, and avoids ruffling feathers.
In contrast, Saudi Arabia and the UAE stress their independence, on occasion counter or distance themselves from the policies of the United States, the region's security guarantor, and sometimes poke the US in the eye.
Last month, the contrast was on full display. While UAE President Mohammed bin Zayed raised eyebrows as the only head of state to attend the St. Petersburg Economic Forum, Qatari Prime Minister Mohammed bin Abdulrahman Al-Thani flew under the radar a week later when he met Russian President Vladimir Putin in Moscow.
Mr. Bin Zayed "has made a sport out of rebuffing the Biden administration's efforts to repair the relationship" between the United States and the UAE. "Of course, from his own perspective, Bin Zayed has proved himself a loyal partner to the United States time and again, but of late has had little to show for it," said scholars Jonathan Lord and Airona Baigal.
In a further illustration of the contrast, Qatar arranged a meeting between a senior Venezuelan and US official last month to improve strained relations resulting from the United States' recognition of opposition leader Juan Guaido as Venezuela's legitimate president and US sanctions against the South American state.
Officials said the talks could lead to a prisoner swap.
"Getting involved in Venezuela is a high-reward/low-risk strategy. By offering its services, Doha is consolidating its emerging reputation as a global diplomatic go-between, helping Washington in several particularly politically sensitive areas," said Eldar Mamedov, a Brussels-based foreign policy expert.
A seemingly unlikely candidate to mediate in a region with which it has no ethnic or religious affinity, Qatar was well-positioned because it had neither joined a large number of governments recognising Mr. Guaido nor adhered to the sanctions. Qatar's refusal failed to upset Washington.
Similarly, Qatar hosts a Taliban office at the United States' request. Hosting facilitated the 2021 negotiated US withdrawal from Afghanistan and US-Taliban contacts since then. With the withdrawal underway, Qatar, like the UAE, provided significant logistical assistance.
Furthermore, Qatar, at times, mediates between the United States and Iran and serves as a postman relaying messages between the two countries.
At the same time, Qatar, unlike the UAE, has not emerged as a haven for Russians seeking to circumvent US and European sanctions, including Russia's Wagner Group, or suspected criminals and corrupt officials.
As a result, the US has sanctioned Emirati rather than Qatari companies for violating US sanctions on Russia and Iran. Moreover, Emirati freewheeling has landed the UAE on the grey list of the Financial Action Task Force (FATF), an international anti-terrorism and anti-money laundering watchdog.
Furthermore, Qatar has ensured that it is less dependent on Chinese telecommunications technology that the United States fears could give China access to US technology embedded in American weapons systems and other security projects.
Last year, the US rewarded Qatar, home to the largest US military base in the Middle East, by awarding major non-NATO ally status.
To be sure, the UAE and Saudi Arabia have been helpful, most recently negotiating prisoner swaps between Russia and Ukraine. In the past, the UAE contributed troops to support the United States in Afghanistan.
The different Gulf state approaches are rooted in Qatar's response to the failed 3.5-year-long UAE-Saudi-led economic and diplomatic boycott of the Gulf state. The embargo was lifted in early 2021 without the Gulf state caving in to demands that would have put Qatar under Emirati and Saudi tutelage.
During the boycott, Qatar significantly tightened its security relationship and cooperation with the United States in fighting terrorism finance.
As a result, Qatari perceptions of relations with the United States differ from the Saudi and Emirati experience.
Ali Shihabi, a Saudi commentator with close ties to the Saudi ruling elite, noted that the kingdom "has changed dramatically over the years, from its infancy before the Second World War to a more self-confident G-20 country secure in its place in the world today."
Saudi attitudes have been compounded by perceptions that "the US security umbrella has been weakened as far as Saudi Arabia is concerned… (That) convinced Saudi leaders that they had to look elsewhere to guarantee their security," Mr. Shihabi said. He was referring to a US refusal to come to the kingdom's aid when Iran in 2019 attacked Saudi oil facilities. He was also referring to a US cutoff of arms and ammunition sales because of the Saudi intervention in Yemen.
Emirati officials voice similar complaints about US reluctance to respond to Iranian-inspired attacks.
In the same vein, Karen Elliot House, an expert on the kingdom, quoted a Saudi minister as saying in March in a closed-door conference: "You tell us not to talk to Russia, your opponent, but you are talking to Iran, our opponent. You say don't buy Chinese weapons. 'Do you have an alternative,' we ask? 'Yes,' you say, 'but we can't sell it to you.'"
Another minister told the gathering, "You said you were behind us in our war in Yemen, but you proved a no-show."
Ms. House, referring to Mr. Bin Salman by his initials, added, "The Crown Prince is making a virtue of relying less on a reluctant US to protect his nation… MBS is skillfully playing a tough hand of great power poker to benefit Saudi Arabia."
Even so, North America remains a primary investment target of Emirati and Saudi sovereign wealth funds. Last year, the US$829 billion Abu Dhabi Investment Authority allocated between 45 and 60 per cent of its investments to North America.
Dr. James M. Dorsey is an award-winning journalist and scholar, an Adjunct Senior Fellow at Nanyang Technological University's S. Rajaratnam School of International Studies, and the author of the syndicated column and podcast, The Turbulent World with James M. Dorsey.