Punjab Assembly session delayed as deputy speaker attacked by govt MPAs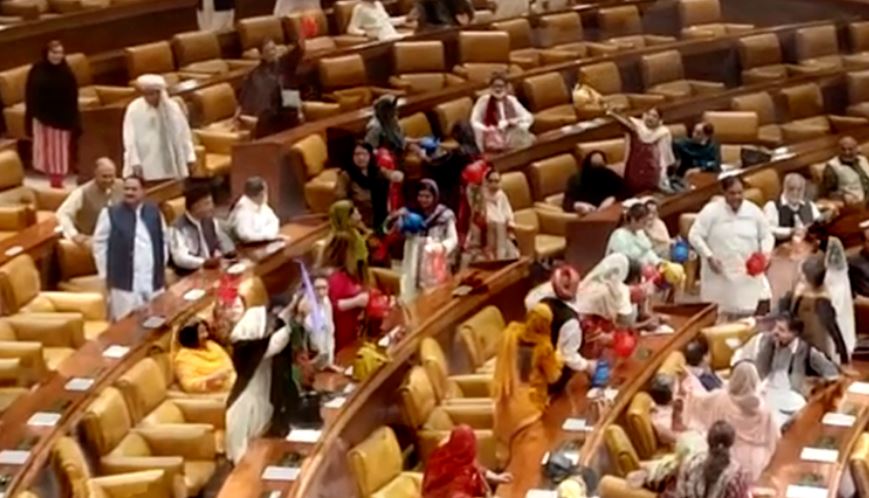 LAHORE: The Punjab Assembly (PA) session, which was scheduled to begin at 11:30am on Saturday to elect the new chief minister, has been delayed after chaos inside the legislature as government lawmakers attacked Deputy Speaker Sardar Dost Muhammad Mazari as he came inside the hall to chair the session.
Slogans were chanted by both the parties, while PTI members threw lotas at the opposition benches.
When Mazari entered the assembly, members of the treasury benches threw lotas at him and tried to circle him, while one of the MPAs pulled his hair and others were seen taking shots at him. Mazari was immediately shifted to his chamber by assembly guards.
To control the situation inside the house, Punjab SSP Operations along with a huge contingent of police officers entered the assembly in civil clothes but later exited the hall after protests from Elahi.
Meanwhile, the Punjab chief secretary and IG held a meeting inside Mazari's chamber to chalk out a plan to resume the PA session.
Later in the day, officers of the Anti-riots Force, clad in bulletproof jackets, entered the Punjab Assembly via its old gate. They will identify the MPAs who attacked the deputy speaker and arrest them.