PTI rejects contents of the statement issued at the conclusion of the Blome-Nawaz meeting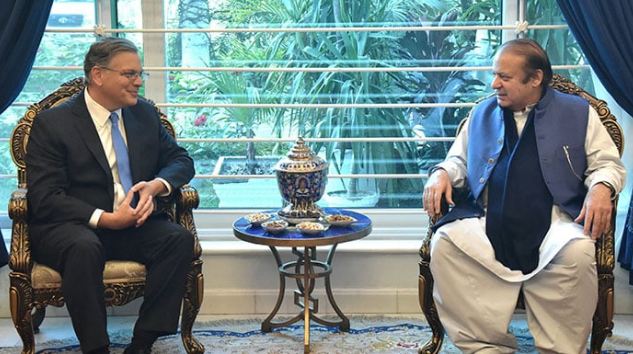 DNA
ISLAMABAD: Pakistan Tehreek-e-Insaf (PTI) spokesperson strongly rejected the contents of the declaration issued at the conclusion of the meeting between the United States Ambassador to Pakistan, Donald Blome and a certified convict and absconder Nawaz Sharif which, he termed as serious interference in the internal affairs of Pakistan.
PTI spokesperson, in a strong-worded statement on Saturday, stated that the contents of the declaration seemed a continuation of the same malicious conspiracy under which the elected and legitimate democratic government of Imran Khan was ousted.
He contended that the contents of the declaration further exposed the plot before the entire nation. PTI spokesperson reminded that the crooked and predatory family of the Sharifs which prospered in the nursery of non-political, non-democratic and unconstitutional dictatorships always bargained and compromised the interests of the country with internal and external bargainers for the sake of securing power.
He noted that the convicted Nawaz Sharif always mortgaged the constitution, democracy and national interest to foreign powers.
PTI spokesperson highlighted that, at present, Nawaz Sharif could not even win his own NA seat, but efforts were afoot to crown this certified national criminal by bulldozing all democratic and constitutional norms.
He said that during the meeting, the US envoy desired that people of Pakistan would express confidence in PML-N once again by giving them a leadership role, which was contrary to the fundamental norms of diplomatic etiquette, bilateral relations, international laws and a serious deviation from the traditions of diplomacy.
PTI Spokesperson urged that the Election Commission of Pakistan (ECP) should take immediate notice of the contents of the said declaration and seek an explanation from Nawaz Sharif. However, he made it clear that the nation would not accept any covert conspiracy or declarative action against national security, constitution, democracy and transparency of the elections.
He vowed that PTI would not budge an inch from the agenda of ensuring supremacy of the constitution, safeguarding democracy, upholding the rule of law and ensuring transparency of elections and securing Haqeeqi Azadi for the nation.