Prof Atta urges govt to promote S&T, higher edu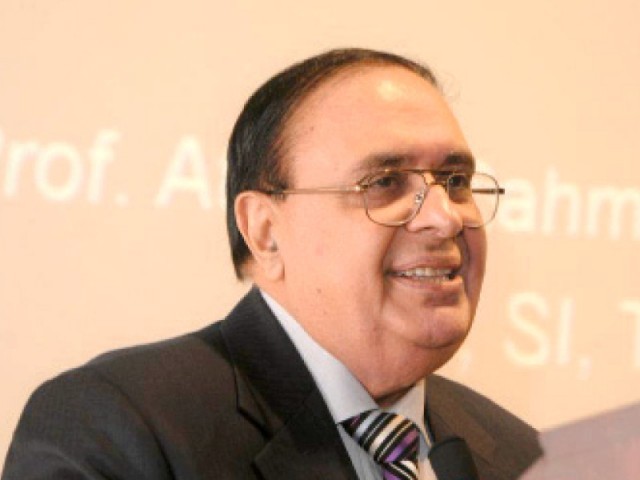 COLOMBO, 13 JAN, (DNA) – Famous Pakistani scientist Prof. Dr. Atta-ur-Rehman is currently visiting Sri Lanka to attend 1st International Conference on Bioscience and Biotechnology – 2016 under the theme of "Molecular Life Science for the Development in the 21st Century", from January 12-13, 2016, organized by Faculty of Applied Sciences, University of Sri Jayawardenepura Sri Lanka.
Prof. Dr. Atta-ur-Rehman is a renowned scientist as well as top Scholar in the field of organic Chemistry with approximately 983 important publications in the field of Organic chemistry. His works is referenced in 155 books largely published in Europe and the United States, in addition to 21 patents.
A UNESCO Science Laureate and Professor Emeritus, Dr Rahman is the primary scientist from the Muslim world to have won the important UNESCO Science Prize in 1999.
He was chosen as Fellow of Royal Society (London) in July 2006 and was awarded Tamgha-e-Imtiaz in 1983, Sitara-e-Imtiaz in 1991, Hilal-e-Imtiaz in 1998 and Nishan-e-Imtiaz in 2002 by the government of Pakistan and Austria's Order of Merit in 2007. Prof Dr Atta-ur-Rahman is also the Editor-in Chief of many European science journals.
While delivering the key note address on "The Wondrous World of Innovation" Dr. Atta-ur-Rehman said that in order to build a strong knowledge economy, Pakistan is to rid itself of the constraints of a natural resource driven approach to socio-economic development and focus on strengthening the "triple helix" of the knowledge economy.
He explained that its three key pillars includes; Government policies directed at strengthening the knowledge and research base and enhancing manufacturing and exports of high technology products;  Establishment of world class universities and centers of excellence in key fields and  Promotion of private sector so that strong linkages can be established between industry and agriculture with national research institutions.
He added that Government may promote R & D within private sector institutions through incentives, which will enhance high technology manufacturing exports from Pakistan.
Dr. Atta-ur-Rehman emphasized that Science, Technology and Higher Education sectors have to play a critically important role in the transition towards a "Knowledge Economy". It is only if we are armed with the right knowledge and skills that we can improve our living standards and provide a decent future to our children, he added.
Narrating the revolutionary changes that occurred under him as Federal Minister, Dr. Atta-ur-Rehman said that the IT and telecom sector experienced rapid increase with internet accessibility across Pakistan from 40 cities to 2000 cities, towns and villages, increase in IT related exports from $ 30 million in the year 2001 to $ 2.8 billion presently and an explosive growth in mobile telephony from 0.3 million in the year 2001 to 150 million now.
Similarly the entire landscape of higher education underwent dramatic changes in a short period between 2002 to 2008 which was lauded by Chairman of the UN Commission on Science, Technology & Development in 2008 with the statement "In no other country has the higher education sector seen such spectacular positive developments as that in Pakistan during the last six years"
Prof. Atta-ur-Rahman has also remained the Federal Minister of Science & Technology, Federal Minister of Education, Federal Minister/Chairman, Higher Education Commission of Pakistan as well as Advisor to the Prime Minister of Pakistan on Science and Technology.
Dr Atta-ur-Rahman is also Patron-in-Chief? of ?the renowned International Center for Chemical and Biological Sciences (H. E. J. Research Institute of Chemistry and Dr. Panjwani Center for Molecular Medicine and Drug Research) University of Karachi. Presently Dr Atta-ur-Rahman is reviving his own institute spanning 200 Acres within the premises of Karachi University.
Dr. Atta-ur-Rehman's research interests include synthesis of natural products, chemistry of bioactive secondary metabolites, development and use of modern NMR spectroscopic methods, search for new enzyme inhibitors and anti-oxidants as well as biotransformation of bioactive compounds. On the basis of his researches, 77 students have been awarded Ph.D. degrees in various areas of natural product chemistry. =DNA