Private airlines minting money from passengers amid PIA strike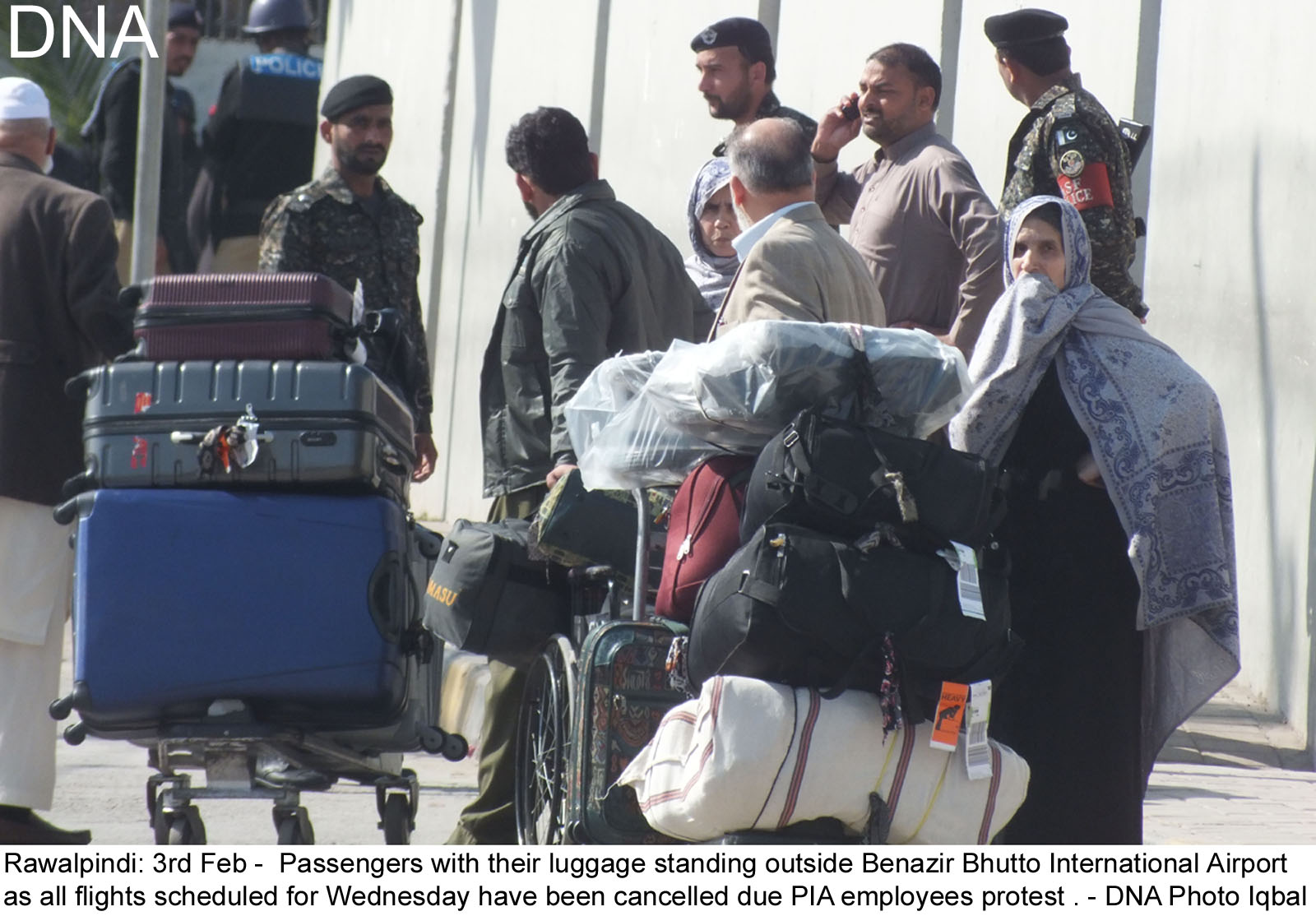 KARACHI, 03 FEB (DNA) – Private airlines have raised fares for the stranded passengers amid ongoing strike by the employees of Pakistan International Airlines (PIA) against privatisation of the national flag carrier. Most of the passengers were seen crowding the counters of private airlines.
Usually, the one-way fare from Karachi to Lahore or Islamabad is around Rs8,000 to Rs9,000 but after the strike by the joint action committee of PIA employees, private airlines have increased it to Rs15,000. Employees are protesting against privatisation of PIA.  Tickets of domestic flights are also being sold at around Rs25,000 to Rs30,000 in black.
The stranded passengers are saying that they have already been facing difficulties in reaching to the airports due to strike by PIA employees and to add to their difficulties, the private airlines have made staggering increase in fare.
On the other hand, Prime Minister Nawaz Sharif said Essential Services Maintenance Act has been extended to PIA to improve performance of national flag carrier.
Talking to newsmen in Sahiwal, he said the strike in PIA had the backing of some political parties, which is causing one hundred million rupees loss per day. He said the passengers face hardships due to poor service of PIA and the poor condition of its fleet.
The Prime Minister said the striking employees will face action. He, however, maintained that those employees, who were doing good job in PIA, and were not paying heed to the striking elements, would be rewarded.
Meanwhile, the Civil Aviation Authority has decided to take emergency steps to mitigate sufferings of passengers. In a statement, Civil Aviation Authority spokesman said the authority has directed private airline Air Blue to start special flights for the purpose.
The airline has been asked to operate additional flights for Lahore, Karachi, and Islamabad.  Earlier, PIA Chairman Nasir Jafar announced his resignation with immediate effect in the wake of killing of workers of the national airlines in Karachi.
His resignation comes at a time when at least three PIA workers were killed and several others were wounded during a clash with Rangers and police at Jinnah International Airport earlier in the day. Owing to the dispute between PIA workers and federal government, Nasir Jafar quit as the head of national flag carrier.
The outgoing PIA Chairman also urged workers to quit their protest and hold talks with the government in order to end this issue. Both Rangers and police deny opening fire at protestors. DNA