Prime Minister presents himself for accountability again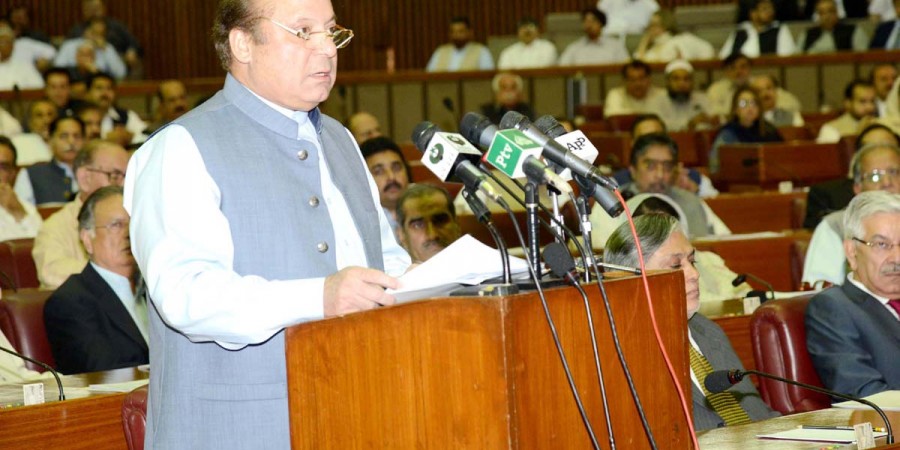 ISLAMABAD, 16 MAY (DNA) – Prime Minister Nawaz Sharif says he has nothing to fear and ready to face accountability. "We are not afraid of anything and present ourselves for accountability," he said while addressing a specially convened session in the National Assembly to debate on Panama Papers' revelations on Monday.
"I request the House to join me in formulating a charter, like the one I had signed with former Prime Minister Benazir Bhutto (late), to investigate the revelations," he added. PM Nawaz said the matter of Panama Papers is not going to end the way opposition wants. "The nation should know the truth. This House is a representative of 200 million Pakistanis. It is an honour for me to be a part of this House.
I want to make this clear that I did not have anything to hide before, nor do I have it now," he said. "Whether it is Jeddah Steel or Gulf Industry, not a single penny was taken outside Pakistan for it…bought the apartment in London after selling properties in Jeddah and Dubai," Prime Minister Nawaz told the House.
Opposition walks out Leader of Opposition in the National Assembly Syed Khursheed Shah said the prime minister failed to respond to seven questions put forward by the opposition parties. "We had put forward seven questions, but the PM Nawaz has made them 70," Shah said.
 "We thought the matter will be resolved once the questions are answered," he added. Following Shah's address, Pakistan Tehreek-i-Insaf (PTI) Chairman Imran Khan was invited to speak to the House, but citing PM's failure to respond to the questions, opposition parties walked out from the session.
Leaked confidential documents spanning over nearly 40 years that spell out the extensive use of tax havens by politicians, world leaders, and celebrities to launder money and evade taxes through one of the most secretive companies the Panamaian law firm Mossack Fonseca, has taken the world by storm.
Many Pakistanis have also been named in their revelations. The documents identify many Pakistani business tycoons and politicians including late two-time Prime Minister Benazir Bhutto as well certain members of the ruling Sharif family (excluding PM Nawaz Sharif and his brother Chief Minister of Punjab Shahbaz Sharif) to have use tax havens to hide their wealth. DNA