President for promoting trade, cultural ties with Indonesia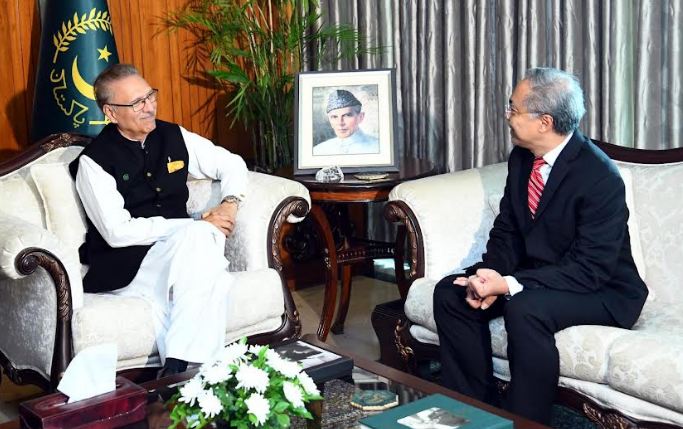 President Alvi said that Indonesian businessmen should explore investment opportunities in Pakistan and benefit from its investment-friendly policies
Adil Shaheen
ISLAMABAD: President Dr Arif Alvi on Wednesday called for further promoting trade, investment, economic, cultural and political relations with Indonesia to bring the two countries further closer.
The president expressed these views while talking to the outgoing Ambassador of Indonesia Adam Mulawarman Tugio, who called on him, at Aiwan-e-Sadr.
Talking to the outgoing envoy, the president said that Pakistan cherished its close, friendly, and fraternal relations with Indonesia, which were marked by religious and cultural affinities and commonality of views on different issues.
He stressed that expanded trade, investment, and economic cooperation was a vital element of bilateral relations between Pakistan and Indonesia.
He added that Pakistan was keen to further deepen its cooperation in the fields of commerce, culture, tourism, and people-to-people contacts.
President Alvi said that Indonesian businessmen should explore investment opportunities in Pakistan and benefit from its investment-friendly policies.
He said that increased mutual political and cultural exchanges were imperative to further improve the brotherly ties between Pakistan and Indonesia.
The outgoing Indonesian Ambassador, Adam Mulawarman Tugio said that Pakistan and Indonesia should diversify trade and investment cooperation to further boost bilateral relations.
He informed that they were planning to open direct flights between the two countries that would bring the two nations further closer.
He further apprised that Pakistani students were among the major recipients of academic scholarships in Indonesia.
President Alvi thanked the ambassador for his valuable support and cooperation during his tenure and expressed the hope that the momentum of growth in bilateral relations between the two countries would be maintained.
He also expressed his best wishes for the ambassador for his future endeavours.