President for mainstreaming visually impaired persons through specialized skill-sets, jobs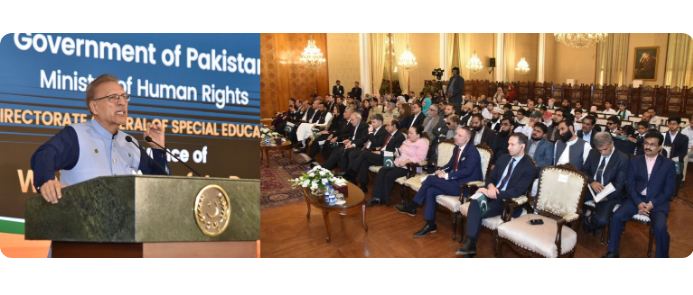 ISLAMABAD, Oct 31 (APP/DNA): President Arif Alvi on Monday said it was the collective responsibility of the society to mainstream the visually impaired persons by providing them with vocational skill sets and specialized jobs.
Addressing an event held in connection with the White Cane Safety Day, the president stressed sensitizing the society towards blind and the visually impaired by identifying their special needs and accommodating them.
Begum Samina Alvi, members of the diplomatic community, and visually impaired children attended the event meant to raise awareness about the ways to address the challenges faced by persons with such disabilities, here at the Aiwan-e-Sadr.
The president said career education and vocational skills for visually impaired students should be started as early as possible in the mainstream school system.
This will provide fellow students an opportunity to deal first-hand with persons with disabilities and learn to accommodate them in society, he said.
President Alvi also emphasized improving the accessibility of visually impaired persons through assistive technological gadgets including the personal digital assistants that guide them as the sensory camera sees objects and describes them aloud.
He said the white cane was the tool for the visually impaired person to be identified in public, thus easing their mobility outdoors.
He said ending discrimination and helping such people to become self-reliant and useful members of society needed to be the goal of the State.
Dr Alvi said the country's first visually impaired diplomat Saima Saleem made history by making a speech at the platform of the United Nations. He also mentioned Yousaf Saleem who became the country's first visually impaired judge and set a courageous example for other people with such disabilities.
He lauded the efforts of the Ministry of Human Rights for providing educational opportunities to children with disabilities and addressing their specific needs.
Interim Minister for Human Rights Khalil George said the ministry was raising awareness about physically challenged persons through various activities and advocacy programmes.
He said the special needs school under the ministry was providing education through Braille and other modern assistive gadgets.
The visually impaired children presented a tableau on the national song 'Dil Dil Pakistan.
The president distributed white canes among the visually impaired children and later along with Begum Alvi had a group photograph with them.