Polish Independence Day event features JAZZ performances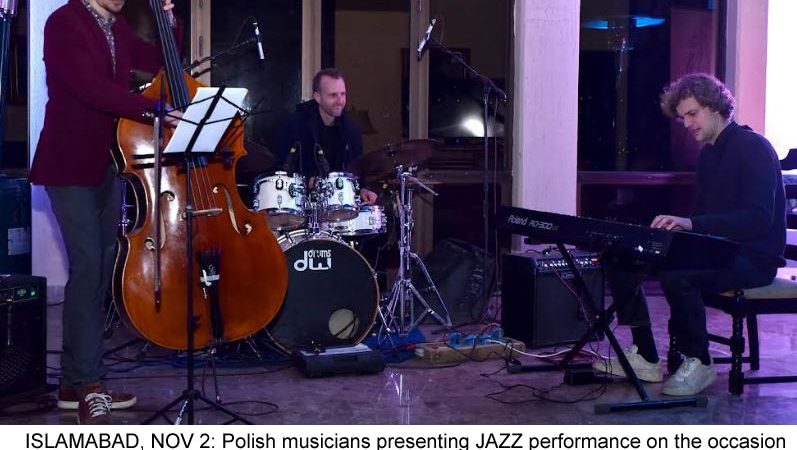 Ambassador of Poland Maciej Pisarkski says, Poland is grateful to Pakistan for facilitation of our evacuation efforts from Afghanistan last year
Staff Report/DNA
ISLAMABAD, DEC 2 /DNA/ – Ambassador of Poland Maciej Pisarkski has said In November 1918, Poland regained its independence after 123 years of partition. It took several years of fighting to secure the borders of the reborn state. The Polish Armed forces withstood every challenge and delivered the final victory over the Bolshevik Russia in 1920.
The ambassador expressed these views on the occasion of Poland's Independence Day and Polish Armed Forces Day. A simple but impressive ceremony was held at the Polish residence in this regard featuring an exclusive JAZZ performance by renowned artists. Minister of State of Finance and Revenue, Dr Aisha Ghaus Pasha was the chief guest.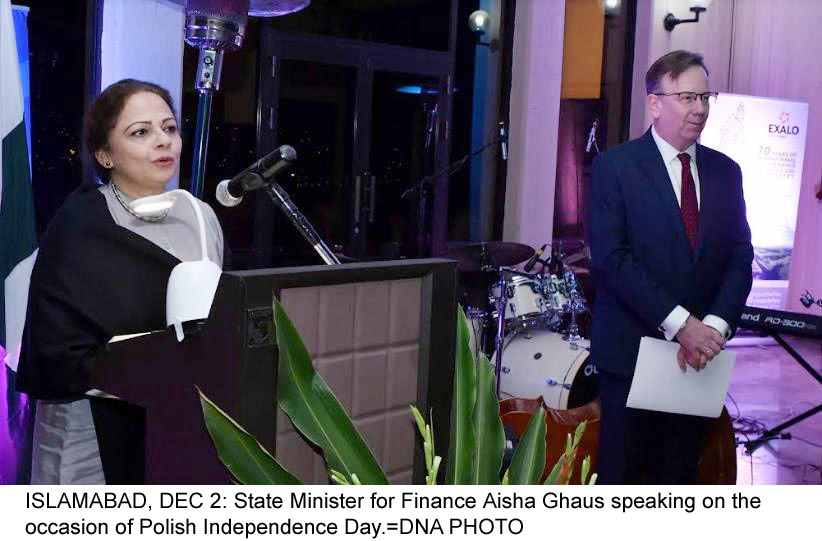 The ambassador further said, even though 20 years later Poland lost its freedom again, there was not no question whether Poles deserved their independence after the second world war. However, it took another 45 years of struggle to achieve true sovereignty after the collapse of communism and the Soviet empire.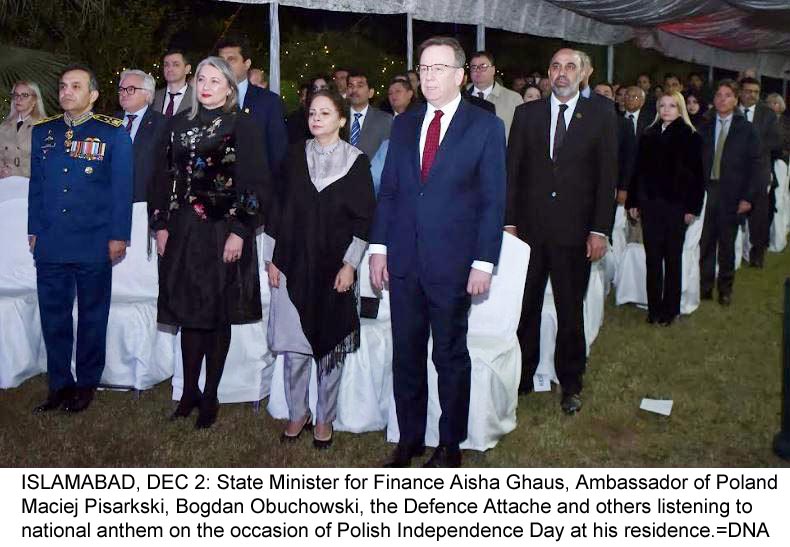 While talking about Ukraine, Ambassador Pisarkski said, Poland's neighbor, Ukraine, has been fighting for its freedom and sovereignty against a brutal and unprovoked Russian aggression. 'We salute the brave Ukrainian people for their unwavering stance', he added.
He said Poland together with its allies has wholeheartedly supported this fight.
Poles opened their homes to millions of Ukrainians who have sought shelter in our country. There are many reasons why this fight is important. Let me limit myself to just a couple.
'First, sovereign Ukraine is an indispensable part of united, peaceful and prosperous Europe. To put it bluntly, without exerting a full control over Ukraine, Russia cannot be empire which projects authoritarian model of government at home and throughout its sphere of influence. Second, abattle of Ukraine is a fight for upholding the universality of fundamental rights and principles enshrined in the UN Charter.
Freedom, sovereignty, territorial integrity, rejection of military aggression constitute a backbone of the international order which provides for peaceful co-existence of all nations – big and small'.
He said, civilians have been victims of this conflict since the day one. Indiscriminate bombings, death, war crimes, rapes and all sorts of violations of human rights have been an ugly face of the this aggression.
Recent targeting of electricity, water supplies and other elements of civilian critical infrastructure pushes the definition of barbarity into new lows.
To shed some light on human sufferings the Embassy had prepared a special exhibition. It was titled "Mom, I don't want the war" and depicted drawings made by children: Polish children who lived through the traumas of the Second World war. And Ukrainian children who have been terrorized by the ongoing war.
The Ambassador also talked about bilateral relations between Poland and Pakistan and said, this year Poland and Pakistan celebrate 60th anniversary of the establishment of diplomatic relations between our countries.
As Zbigniew Brzezinski put it. "Anniversaries are like birthdays: occasions to celebrate and to think ahead, usually among friends with whom one shares not only the past but also the future."
Throughout this time our relationship has matured and solidified. We are close friends and effective international partners. We are driven by the same values and principles. We have worked together to increase regional stability and international peace. We have put people in the center of our cooperation.
For example, Poland is grateful to Pakistan for facilitation of our evacuation efforts from Afghanistan last year. This year, we worked together to allow Pakistani citizens, mostly students, who were affected by the Russian aggression to reunite with their loved ones at home. We also cooperated in delivering humanitarian Pakistani assistance to Ukraine.
Our bilateral trade stands over eight hundred million euros. Mostly due to a preferential system of trade with the European Union, GSP plus, Poland has been one of the fastest growing markets for Pakistani products.
'Our ambition is not only to increase the volume of our trade. We would like to expand and enrich our trade and economic exchange to make it more a two way street, with more Polish business operate in Pakistan'.
He said, Poland looked forward to expand presence in areas involving new innovative technologies, addressing the needs of digital economy and green transition.
Regarding the defence cooperation the Ambassador said, defense cooperation remains a potential area of grow. The jewel in the crown of our economic cooperation is contribution of Polish companies: Polish Oil and Gas Company – PGNIG and Exallo Drilling to the strengthening of Pakistan's energy security.
PGNIG has invested more than three hundred million dollars in developing gas extraction projects in Sindh province. The company has brought in an innovative technology and unique know how to deliver to the Pakistani consumers Pakistani gas.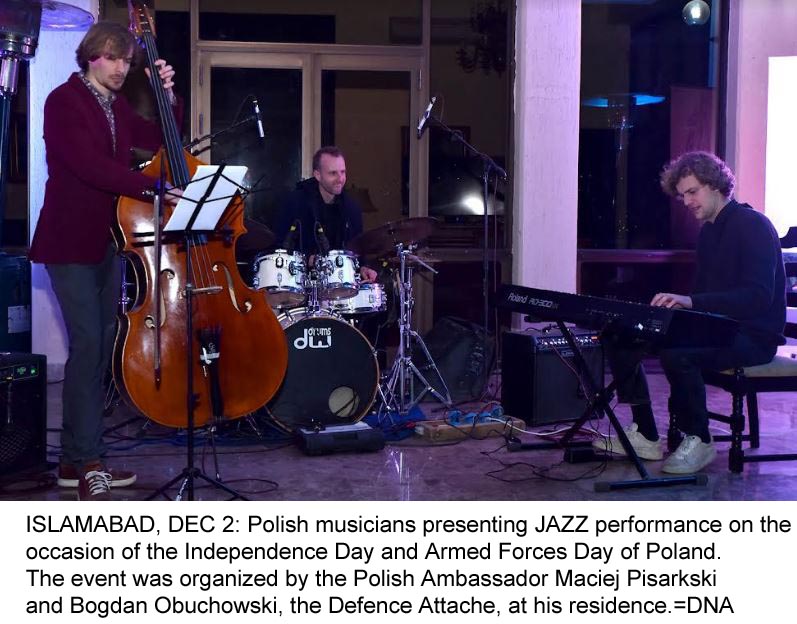 'The catastrophic FLOODS brought a lot of human suffering and destruction to the Pakistani people. Poland has expressed heartfelt condolences. We have joined European effort to bring in much needed humanitarian aid. We supported international organizations in their actions in Pakistan. Polish non-governmental entities joined the relief effort'.
A special JAZZ performance was also arranged on the occasion. Jazz music has occupied a special place in Polish culture. It has always been an expression of boundless creativity and freedom, the ambassador concluded.=DNA
===========