'Police have surrounded my house,' Imran Khan says fearing arrest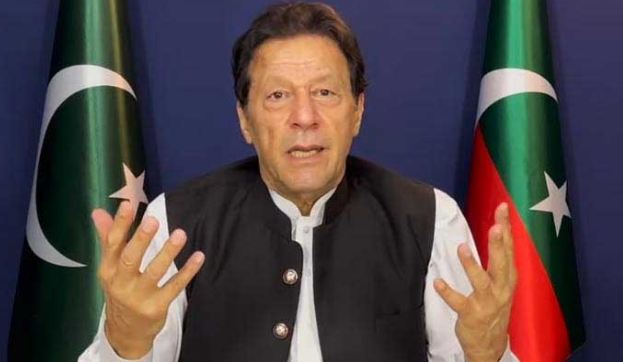 Lahore: Pakistan Tehreek-e-Insaf (PTI) Chairman Imran Khan said Wednesday that police have surrounded his Zaman Park residence in Lahore — where he is currently residing — and expressed fears that he could be taken into custody.
"Probably my last tweet before my next arrest. Police has [sic] surrounded my house," the PTI chief said in a tweet.
Khan was arrested on May 9 — the day when the country witnessed deadly protests — in the Al-Qadir Trust corruption case, but a court later granted him bail.
Later, addressing his party workers, the deposed prime minister — who was removed from office in April last year — that if the police come with a search warrant to carry out an operation at his Zaman Park residence, he would not put up resistance against them.
"I have just heard that 40 terrorists are hiding at my residence. Please do come here [but] in a civilised manner and don't attempt to storm my residence," he said while addressing his supporters.
His statement came as the interim Punjab government has given a 24-hour deadline to the PTI to hand over the "30-40 terrorists that have taken refuge" at the former prime minister's Zaman Park residence to the police.
"PTI should handover these terrorists or the law will take its course," said Caretaker Information Minister Aamir Mir while addressing a press conference in Lahore earlier today. He also added that the government was aware about the presence of these "terrorists" as it had credible intelligence reports.
"The intelligence report that has come is very alarming," said Mir. He added that the agencies were able to confirm the presence of the "terrorists" in Zaman Park through geo-fencing.