PML-N announces Nawaz Sharif as prime ministerial candidate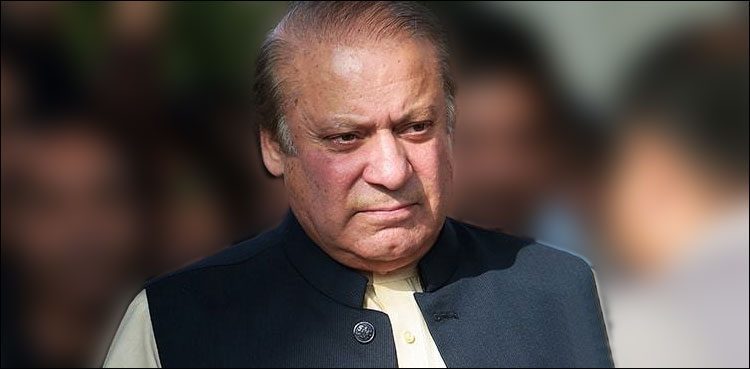 –Demands immediate election
LAHORE, OCT 31 (DNA) — The Pakistan Muslim League Nawaz (PML-N) unanimously decided on Tuesday that the party's supremo Mian Nawaz Sharif will be a candidate for the premiership.
The decision was taken by the party in a consultation meeting presided over by Mian Nawaz Sharif at his residence Jati Umra.
The meeting was attended by prominent leaders of the PML-N including party President Mian Shehbaz Sharif, his sons Hamza Shehbaz, Salman Shehbaz, General Secretary Ahsan Iqbal, Irfan Siddiqui, Mariyum Aurangzeb, Saud Majeed, Rana Sanaullah Khan, Rana Tanveer Hussain, Khawaja Asif, Khawaja Saad Rafiq, Mian Javed Latif and others lasting over four and a half hours. Nawaz Sharif also hosted a lunch in honour of party leaders.
After the meeting, PML-N General Secretary Ahsan Iqbal held a media briefing and announced Mian Nawaz Sharif as the prime ministerial candidate of the party.
PML-N General Secretary Ahsan Iqbal strongly criticized a political party's [Pakistan Tehreek-e-Insaf] treatment of the Pakistan Army, expressing that it surpassed the actions of any enemy. Ahsan Iqbal referenced the events of 2017, claiming that the level playing field had been stripped from the Nawaz League but Pakistan People's Party's (PPP) Asif Ali Zardari and Bilawal Bhutto were still enjoying it.
He voiced concern about Nawaz Sharif losing this level playing field, expressing a hope that Nawaz Sharif would become the Prime Minister of Pakistan and that justice would prevail.
The PML-N general secretary said this consultation marked the first formal meeting following Nawaz Sharif's return home, during which he expressed gratitude for the successful rally at Minar-e-Pakistan, which witnessed an unprecedented turnout.
Ahsan Iqbal also referenced a conspiracy in 2017 to remove Sharif from the post of Prime Minister. He told the media that in the meeting, PML-N leaders condemned Israeli brutality in Palestine and announced a general house meeting on November 4 at Sharif Medical City to discuss the situation in Palestine.
Ahsan Iqbal urged the courts to quash all the 'fake' cases against Nawaz Sharif and the elections should be held during the last week of January 2024. He, without naming PTI chief, said the PMLN people were locked up in fake cases and now the PTI chairman should also be locked up in order to punish him and telling a lie.
The PMLN has also demanded immediate elections in the country in an emergent meeting of the party under the chairmanship of Nawaz Sharif. The party has invited applications from November onward from the candidates for contesting national and provincial assemblies' elections and would hold a special general council at the Sharif Medical city on November 4 to express solidarity with the Palestinian peoples.
In the meeting, the party made a decision to seek applications from the candidates for National and Provincial Assembly seats till November 10. A manifesto committee led by Irfan Siddiqui was also constituted in the meeting while there is also a plan for Nawaz Sharif's visits to all four provinces and meetings with various political parties and schools of thought. — DNA