PM says it will help Pakistan to further cement its economic ties with it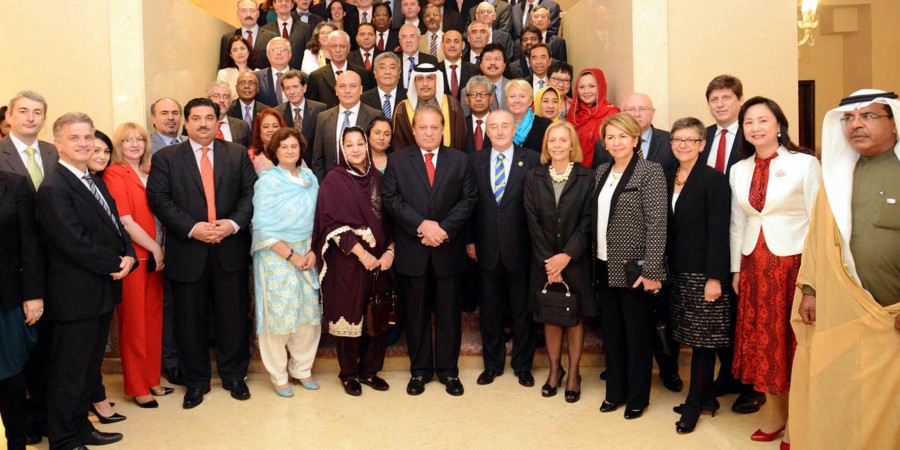 ISLAMABAD, March 21 (DNA): Prime Minister Nawaz Sharif has lauded lifting of sanction on Iran adding that it will help Pakistan to further cement its economic and commercial ties with Iran.
The Prime Minister stated in a meeting with Mehdi Honardoost, Ambassador of Iran who called on him at PM House on Monday. "We are pleased to note that international economic sanctions on Iran have been lifted; paving the way for expeditious resumption of commercial and economic ties between our countries." said the Prime Minister.
Congratulating the Ambassador on his new assignment, the Prime Minister cordially welcomed Mr Mehdi Honardoost to Pakistan and expressed the hope that he would make valuable contribution in strengthening the bilateral relations between the two brotherly countries.
The Prime Minister said that Pakistan greatly values its fraternal ties with Iran and considers Iran a close friend and a neighbor.
I am looking forward to welcoming President Rouhani later this week. The visit would be a great opportunity for us to review the whole range of bilateral relations and further strengthen the brotherly ties, said the Prime Minister.
The Prime Minister said that revival of economy and overcoming the energy deficit in Pakistan are the high priority areas of his Government. Our vision of achieving economic stability and development in Pakistan are linked with stability in the region. We are focussed to implement our agenda of achieving regional connectivity for enhanced trade and business cooperation. Pakistan is keen to explore all available business and trade opportunities in the region which would prove mutually beneficial for the neighbouring countries as well, emphasised the Prime Minister.
Thanking the Prime Minister for the warm welcome, Mr Mehdi Honardoost said that the current figures of bilateral trade between Iran and Pakistan do not reflect the enormous potential that exists between the two countries. We need to seize the moment by redoubling our efforts to achieve the target of US $ 5 billion set by yourself and President Rouhani during your visit to Iran in May 2014, the Ambassador said to the Prime Minister.