NA Speaker applauds Saudi role in promoting regional peace, stability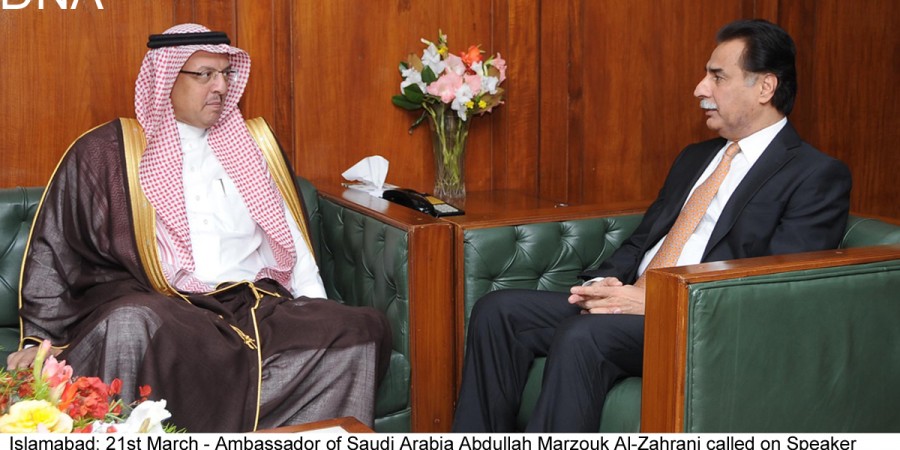 ISLAMABAD, March 21 (DNA): Pakistan values high its relations with Saudi Arabia and both the countries are tied in the eternal bonds of religion, history and culture.
These views were expressed by Sardar Ayaz Sadiq, Speaker National Assembly, while talking to Abdullah Marzouq Al-Zahrani, Ambassador of the Kingdom of Saudi Arabia, who called on him in Parliament House, on Monday.
Sardar Ayaz Sadiq said that the menace of extremism and terrorism had adversely affected the region's progress. Region's peace and progress needed collective efforts and Saudi Arabia had always played pragmatic role in promoting stability and development of the region, the Speaker added.
The Speaker underlined the need for greater exchange of parliamentary delegations of both the countries for strengthening relations and establishing people to people contacts.
The Saudi Ambassador Mr. Abdullah Marzouq Al-Zahrani said that his government wanted Pakistan to prosper and develop. He stressed the need for spreading the true message of Islam for curbing extremism and terrorism.
He was confident that fraternal relations between both the countries would further strengthen by frequent interaction between the parliamentarians of both the countries.  DNA