PM praises friends  of Pakistan for  generous support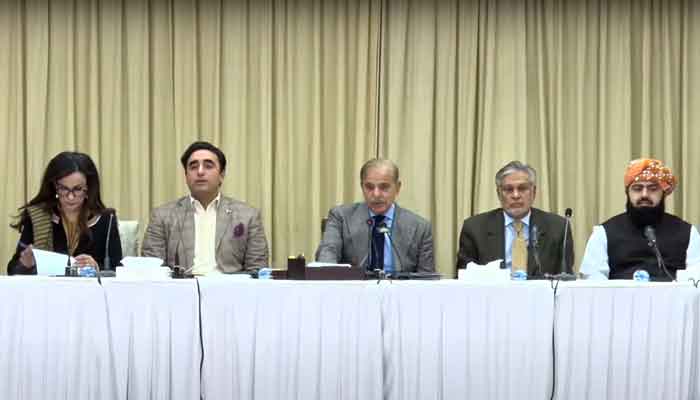 PM praises friends
 of Pakistan for
 generous support
Shehbaz Sharif says Pakistan will never disappoint his benefactors; Bilawal assures transparency in utilization of funds on rightful projects
Ansar M Bhatti
ISLAMABAD: Prime Minister Shehbaz Sharif Wednesday said the world reposed trust in Pakistan and pledged worth over $9 billion in flood aid despite indiscriminate propaganda by the rivals — Pakistan Tehreek-e-Insaf (PTI).
Addressing the media the premier said the government would continue to help the people affected by cataclysmic floods till their complete rehabilitation.
"At the conference, pledges worth $9.7 billion were announced for the Pakistan flood victims," the PM said, congratulating his federal ministers for the hard work they and their teams put in before this critical conference.
"Islamic Development Bank promised $4.2 billion, World Bank $2 billion, Saudi Arab $1 billion, Asian Infrastructure Development Bank $1 billion, Asian Development Bank $500 million, USAID $100 million, China $100 million, Italy €23 million, Japan $77 million, Qatar $25 million, UK £36 million, and France $10 million," the prime minister said.
The premier said that the world reposed trust in Pakistan despite the worst propaganda against the government, crediting his team for the success. "The ball is now in our court. We now have to transparently spend every single penny on the people's prosperity."
He said the presence of the representatives of all the provinces at the conference sent the message to the world that "we are united". "The global community showed confidence in the coalition government of Pakistan."
The prime minister hailed Saudi Crown Prince Mohamad Bin Salman for his continuous assistance to Pakistan and generous support.
Speaking on the occasion, Foreign Minister Bilawal Bhutto, pointing toward PM Shehbaz, said "your foreign policy has been successful". The top Pakistani diplomat, who was with the premier at the conference, said the government achieved two targets with one shot.
The support from the international community proved that Pakistan is not isolated as propagated by the government's rivals, indirectly referring to the PTI. The PPP chairman added that now they would put in concerted efforts and help flood victims to steer them out of the crisis.