PM Nawaz, Turkish FM satisfy over expanding Pak-Turk relations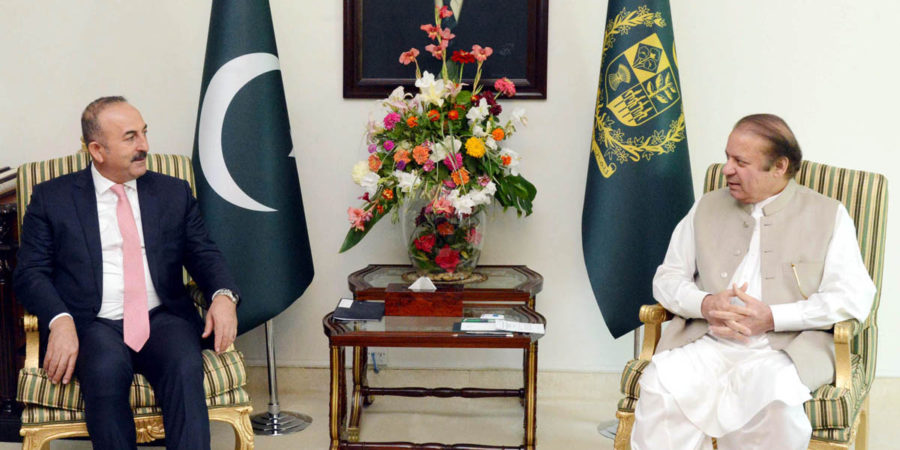 ISLAMABAD, 02 AUG, (DNA) – Foreign Minister of the Republic of Turkey, Mevlut Cavusoglu, visited Pakistan from 1-2 August 2016. During his stay in Islamabad, he called on the President and the Prime Minister and held delegation-level talks with Mr. Sartaj Aziz, Adviser to the Prime Minister on Foreign Affairs. He also met Minister for SAFRON.
During Mr. Cavusoglu's call on the Prime Minister, both leaders expressed satisfaction at the continued expansion and deepening of bilateral relations. The Prime Minister emphasized the importance that Pakistan attaches to its relations with Turkey and underlined the need to hold regular high-level exchanges.
The President, in his meeting with the Turkish Foreign Minister, stressed on the importance of fostering unity among the Muslim Ummah to tackle modern day challenges faced by it and noted that both Pakistan and Turkey had an important role to play in that regard.
Both the President and the Prime Minister reiterated their strong condemnation of the attempted coup in Turkey and lauded the successful defence of democracy by the people of Turkey under the popular leadership of President Erdogan.
The entire spectrum of Pakistan-Turkey bilateral relations as well as global and regional issues of mutual concern, with special emphasis on Afghanistan, came under discussion during the bilateral meeting between Adviser to the Prime Minister on Foreign Affairs and the visiting Minister.
The Adviser congratulated the Foreign Minister on the successful thwarting of the coup attempt on the night of 15 July 2016 and reiterated Pakistan's unequivocal support for the democratic institutions of Turkey under President Erdogan.
He also expressed condolence on the loss of precious lives in recent terror attacks in Turkey and stated that he had no doubts that the Turkish nation would soon decisively overcome the scourge of terrorism.
Foreign Minister Cavusoglu lauded the successes achieved by Pakistan, especially through Operation Zarb-e-Azb and the National Action Plan. Both leaders agreed on the need for intensified efforts in the international fight against terrorism.
Expressing satisfaction at the ever-growing cooperation between the two fraternal countries, the two leaders agreed on the need for sustained engagement for enhanced cooperation in diverse spheres.
The importance of early conclusion of bilateral Free Trade Agreement was also highlighted as it would significantly contribute towards the overall vision of the leadership of the two countries to transform the traditionally cordial bilateral relations into a robust economic partnership.
The Adviser also briefed Foreign Minister Cavusoglu on the latest situation in Afghanistan, including reconciliation efforts, steps taken to improve border management between Pakistan and Afghanistan and the status of Afghan refugees. He also underscored the imperatives of reaching a sustainable and lasting peace in Afghanistan through reconciliation and dialogue.
On the issue of migration, the Adviser lauded the generous spirit of the people of Turkey in welcoming and hosting refugees from Syria. The two leaders called upon the developed countries to increase their contributions in this regard.
Since both countries host the largest refugee populations in the world, the leaders agreed that there was an urgent need for a more forthcoming response from the developed countries in order to reduce the disproportionate burden on developing countries. =DNA
==============