PM Nawaz addresses 'Water for Life' conference in Tajikistan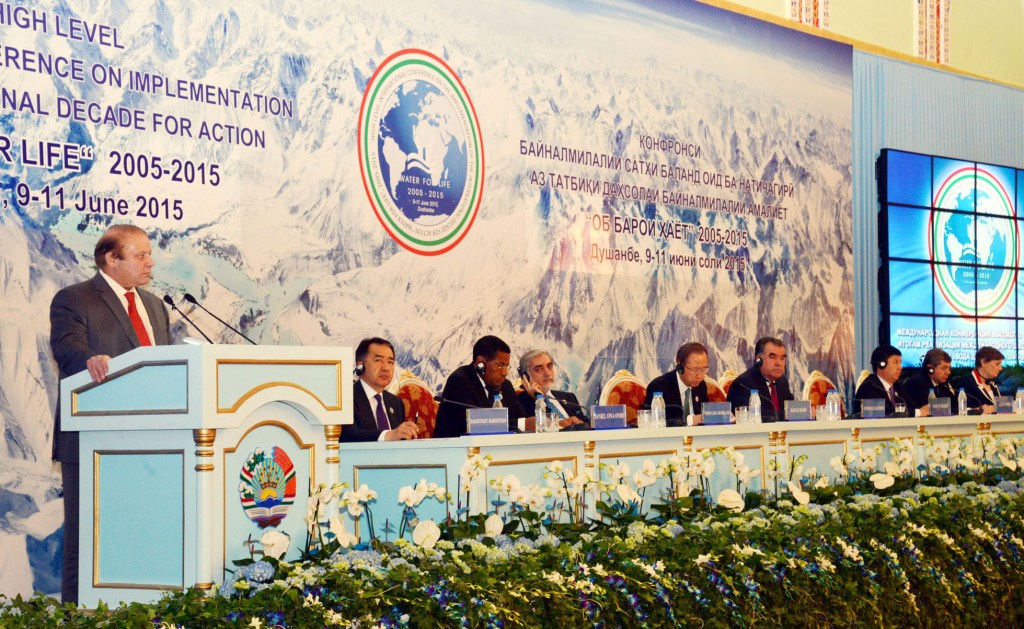 DUSHANBE: Prime Minister Nawaz Sharif on Tuesday addressed the Conference on Implementation of the International Decade for Action, 'Water for Life' 2005-2025, after arriving in Tajikistan on a two-day official visit.
"This conference is a fresh reminder that the challenge is yet to be overcome," PM Nawaz said while addressing the conference. "Our work is still not complete."
"Millions remain without access to water, while for billions access to sanitation facilities continues to be an out-of-reach luxury," the premier added. "By 2025, two third of the world's population might be facing water-stress, as during the same period, water demand would shoot up by 40 per cent."
PM Nawaz is representing Pakistan at the conference accompanied by Minister for Water and Power Khawaja Muhammad Asif and Special Assistant to the Prime Minister on Foreign Affairs Tariq Fatemi.
"I am pleased to recall that Pakistan was one of the co-sponsors of the UN Resolution that established the International Decade," PM Nawaz further said. "On the eve of completion of the International Decade, we can identify several milestones to take note of our collective efforts."
PM Nawaz revealed that the Millennium Development Goal (MDG) target of halving the proportion of population without safe drinking water and sanitation by 2015 was met ahead of time. He added that the UN has recognised access to safe drinking water and sanitation as a human right.
"Pakistan is committed to achieving 100 per cent access to improved drinking water, sanitation and sufficient and unhindered supply for various purposes," he added, mentioning implementation of sectoral development plans and strengthening institutional capacities with well-defined human resource development plans.
"There is now much better awareness at national, regional and global levels about water's impact on life and our planet," the premier further said.
UN Secretary General Ban Ki-moon and other world leaders are also attending the conference which is being hosted by Tajikistan for the implementation of the UN resolution.
On the sidelines of the conference, Nawaz held a one-on-one meeting with Tajik President Emomali Rahmon, as well as delegation-level talks, Pakistan's Ambassador to Tajikistan Tariq Iqbal Soomro said.
He added that both leaders discussed regional and international issues as well as bilateral relations. "Promotion of bilateral trade and speedy work on CASA-1000 was also on the agenda."