PM issues directions to finish CPEC work by end of 2017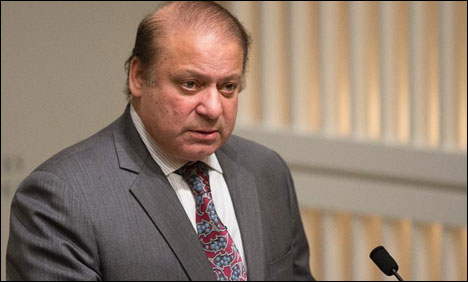 ISLAMABAD: Prime Minister Nawaz Sharif has issued directions to complete infrastructure projects planned as part of the China Pakistan Economic Corridor (CPEC) by the end of 2017.
The premier made the decision while chairing a high-level meeting called to review the progress of infrastructure and energy projects planned under CPEC and said it will be achieved by mobilising resources and completing financial and technical formalities.
The meeting participants were informed by senior officials of various projects under CPEC that major infrastructure projects of the Peshawar–Karachi Motorway including Sukkar-Multan, Gojra-Khanewal and Lahore-Abdul Hakim Sections of the motorway are ready for groundbreaking.
The meeting also reviewed the Havelian to Thakot road project and other sections of the Karakoram Highway (KKH) that are being upgraded.
A spokesman for the PM house said the meeting also reviewed the progress about the Gwadar East Bay Expressway, Mughalkot- D.I. Khan Road and various other road projects in Balochistan.
The premier said that the completion of road projects in Balochistan under CPEC would be a game changer for the region.
The prime minister was informed that work on Attabad tunnel in Gilgit has been completed which the prime minister is expected tol inaugurate in the last week of August this year.
The premier also directed to complete work on new Gwadar International Airport in the shortest time possible.
PM Nawaz was briefed about the projects of upgradation of ten railway stations on Peshawar–Karachi main railway line.
The prime minister gave directives for high quality upgradation of railway stations, provision of maximum facilities to passengers, and to utilise buildings of railway stations for economic and commercial activities.
Federal Minster for Planning and Development Ahsan Iqbal, Secretary Ministry of Water and Power Muhammad Younus Dagha, Secretary Planning and Development Hassan Nawaz Tarar and other senior officers attended the meeting.
During Chinese President Xi Jinping's much talked-about visit to Pakistan, Pakistani and Chinese officials signed a series of more than 50 accords to inaugurate the multi-billion dollar CPEC, which will create a network of roads, railways and pipelines linking China's restive west to the Arabian Sea through Pakistan.
Earlier on Saturday, Army Chief Gen Raheel Sharif said that the army was ready to pay any cost for making CPEC a reality.
Unrest has been a major source of concern for the project. The military soon after the inauguration of the project during President Xi's visit had announced setting up a 10,000-strong special force for protecting the projects to be carried out under the CPEC and the Chinese workers associated with them.
The Chinese have been seriously following the security situation in the province. Chinese Vice-Minister for Security Dong Haizhou visited Pakistan in June for security-related briefings.
During his visit to Balochistan, Gen Sharif said the overall security situation in the province had noticeably improved.